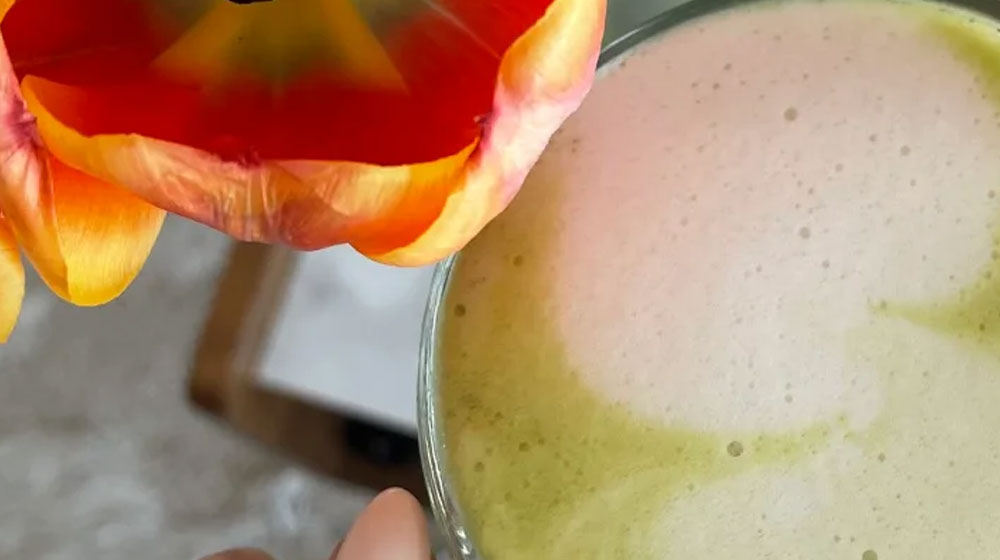 8 min read
Surviving two weeks without coffee thanks to Matcha, possible or not ?
The coffee addict in me decided to take on the challenge of depriving myself of my precious liquid for TWO weeks and replacing it with Matcha. Did I succeed without cheating? Keep on reading to find out…
Two weeks without coffee, Matcha Waiting For?
Just imagining it scared me!
NO JOKES. When I saw the package arrive, I felt a migraine coming. Was I really going to separate myself from my beloved coffee? I know, I'm 100% addicted. If I skip coffee for a few hours in the morning, a headache almost immediately kicks in.
I'm a self-proclaimed coffee lover, I love the taste, the smell, and the lifestyle that surrounds a cup of joe. I only drink coffee (aka it's what I eat for breakfast), and it's been that way since I can remember. I must have started drinking coffee before I got my drivers license.
I'm not one to back down, and I've accepted this challenge (of a lifetime!). You know what they say, you can do anything you put your mind to. I've agreed to 14 days without Matcha to discover new sensations, flavors and lifestyle habits. Because…why not?
Day 1 - Saying goodbye to coffee
Morning number 1, I open the box that is filled with everything I need to survive for two weeks : different flavors : from funky to traditional, a new mug to motivate me, a shaker, a frother and a bottle to keep my Matcha cold for those mornings on the road.
Still, I found myself in familiar territory as I'd tasted Matcha before and different flavors from Teangle. It's however the first time that I would be trying Matcha Collagen. The real earthy taste of Matcha with the texture of a latte (my perfect mix!!) without the calories. I admit I added in a bit of milk, but that's just me, never doing things as they should.
FYI : 1 scoop of Teangle Matcha Collagen per day helps to give your skin that natural glow, increases your energy and strengthens your immune system.
That's what I started my challenge with : and what a pleasant surprise it was !
It was delicious.
Loved the boost of energy that followed
No crash later in the afternoon
I didn't have to take a 3rd Matcha that day to keep me going, like I was used to doing with coffee. I however admit that I did succumb to a second cup since I wanted something to sip on while answering my emails but by no means was it because of lack of energy.
Day 8 - Already a week has passed
This girl is happy. Moreover, I just remembered that I had agreed to 7 days but honestly with the way everythings been going, 14 days won't hurt.
Let's go for 14 days then! Me who foolishly thought I knew Matcha because of the few beverages I'd ordered back in the days at Starbucks. I honestly had no clue about the beautiful culture behind it all. This simple beverage should be prepared hot or cold every morning and/or afternoon with love.
I found it a lot longer than the simple press of a button from my espresso machine but I quickly fell for this new little ritual. I heat up my water as soon as I wake up (not boiling!), I prepare a big cup of Matcha with either a spoon of Matcha Collagen or two mini spoons of matcha (whichever one I fancy that day). I mix in a small quantity of water with the powder and use my Frother to make sure the mixture is homogeneous. Depending on if I want a hot or cold Matcha, I head up my milk or add ice and voila !
The discovery of Matcha and its multiple flavors !
You want something flavorful ? You'll be well served. But remember, everything is always green. I mention it because I was myself a little surprised ! Even though the Matcha Chai envelope is orange, you'll still get a beautiful green colored Matcha everytime.
My favorite flavors are :
Discover the signature flavors right here!
Day 14 - The ultimate day!
To be writing these lines after two weeks without having had a single drop of coffee…and without rushing towards the espresso machine once the challenge was over, I can proudly say that I did it!
Since i've completed the challenge, i've noticed that i've taken the habit of slowing down in the morning. I have a constant and steady stream of energy throughout the day, and alternate between the two beverages. One for its benefits, the other for its taste.
I haven't quit coffee, but dare I say that I'm in another committed relationship with 'someone' else now, haha 😉  
That being said, I'd love to try it in more recipes and cocktails. If you have any recipes, I'm a taker. And if you have any questions, don't hesitate to ask!
Cheers (with my Matcha) 🍵
---