Teangle Matcha Collagen
978 Reviews
Based on 978 reviews
5g of pure marine collagen in every serving.
ADD TO CART - &nbsp
$53.55
Frequently Bought Together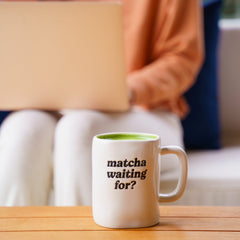 Matcha Mug
Handmade for big matcha latte's
matcha spoon
The perfect companion to your matcha regime.
ADD BUNDLE TO CART - &nbsp
$77.53
It's time to shine!
Discover the new Teangle Collagen Matcha powder: formulated with 3 super ingredients to give you stable and long-lasting energy, strengthen your immune system AND preserve your natural glow!
Improves the natural beauty of your skin, hair and nails
More energy to do the things you love without the CRASH
Boosts your immune system so you can stay healthy
Each serving contains :
5g of pure marine collagen, 1g of organic ceremonial Matcha, organic coconut milk powder and organic acacia gum

Free standard shipping in North-America on orders over $60
30 day money back guarantee, enjoy our best selling Matcha risk-free!