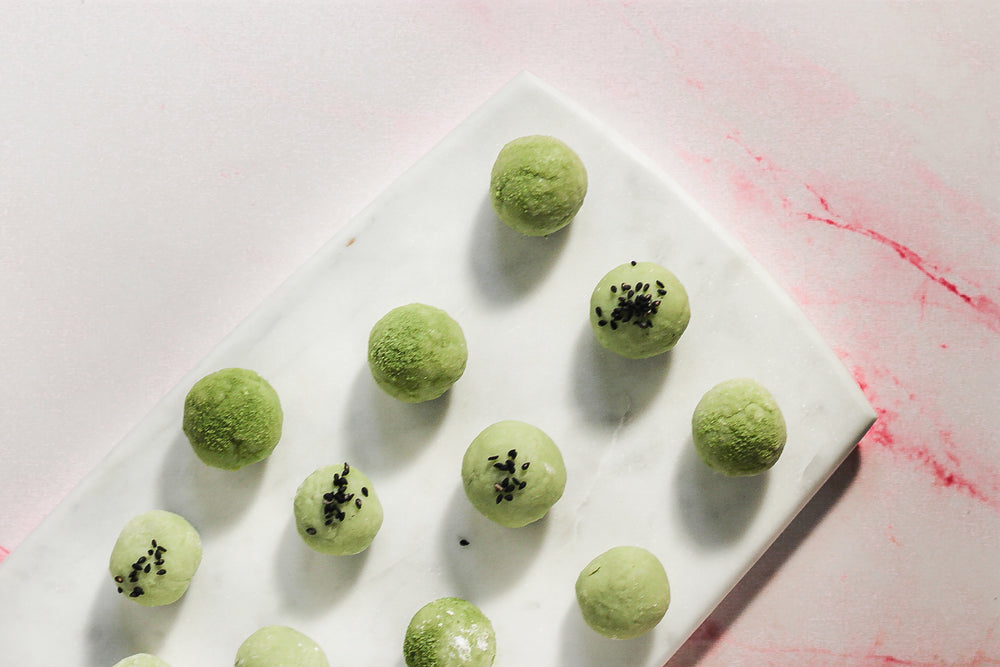 2 min read
Matcha Milk Balls
If you haven't had a taste of this TikTok trend yet #MatchaWaitingFor!
Matcha Milk Balls are small, spongy, ping pong ball-sized snacks that pack a seriously big punch when you need it most. 
In other words: YUM!
Ready to bite into a burst of flavor AND energy?!

THESE MATCHA MILK BALLS ARE: 
The perfect little energizing treat
FOR 12 MILK BALLS:
INGREDIENTS 
6 tbsp. cornstarch
1 cup of coconut milk
3 tbsp. tablespoon of honey
1 tsp. of vanilla
A pinch of salt
1 tbsp of Teangle Matcha Collagen and more for sprinkling**
INSTRUCTIONS
In a small saucepan, combine cornstarch and half coconut milk. Mix to combine. Add the remaining milk, honey, vanilla and salt. 

Place the saucepan on medium high heat and cook, stirring frequently for about 5 minutes. When the milk thickens and forms a ball, remove from the heat and stir in the matcha powder. 

Mix the dough 3 minutes with a spatula or until it forms a dense dough ball. 

Cover your hands with cornstarch and form about 12 milk balls. If the dough sticks to your hands, refrigerate it for at least 15 minutes.  The dough should be slightly denser and easier to work with. 

Dust milk balls with matcha* or sprinkle with sesame seed.  

Store the milk balls up to one week at room temperature in an airtight container.
** You don't have our Matcha Collagen? Not to worry! Substitute with 2 tsp of any Teangle matcha of your liking. You can also dust the milk balls with a mix of 2 tsp of matcha and 1 tbsp of powdered sugar.
Going to make these Matcha Milk Balls?! Take a picture, share it on Instagram (or TikTok!!!) and tag us @teanglematcha 
---