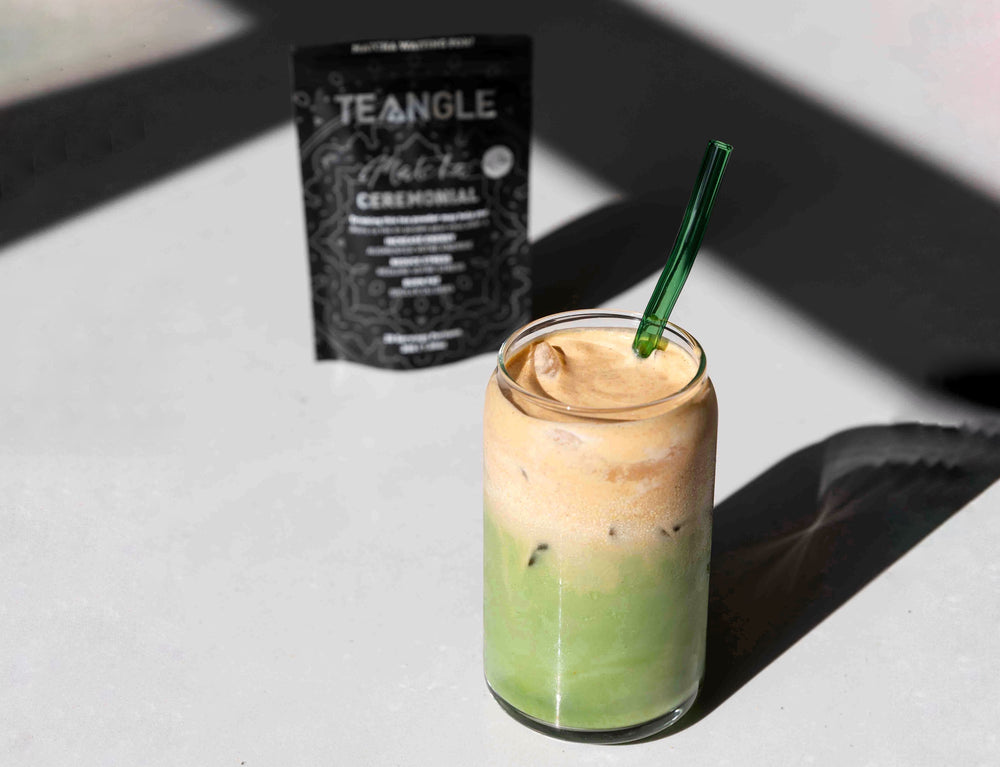 2 min read
Matcha & Pumpkin Cold Foam: Fall's Best Combo
Love Starbucks but want a healthier option at home? We've got you covered. Try our Iced Matcha Latte with Pumpkin Cold Foam. It's a blend of refreshing matcha and cozy pumpkin spice, perfect for the sweater weather.
 
Participate in Our Monthly Giveaway:
Whip up this recipe with your fam, strike a pose, and snap that pic! 🍵📸 Slide it onto Instagram and tag @teanglematcha. Who knows? You might just snag our monthly free matcha prize giveaway prize! 🎉
WHAT YOU'LL NEED TO MAKE THIS RECIPE :
For Iced Matcha Latte:
For Pumpkin Cold Foam:
¼ cup canned pumpkin puree
½ cup heavy cream
1 or 2 tablespoons maple syrup
½ teaspoon pumpkin pie spice (or a blend of cinnamon, nutmeg, and cloves)
STEP-BY-STEP INSTRUCTIONS
For Iced Matcha Latte:
Sift: Use a strainer to sift the Ceremonial matcha into a small bowl to prevent clumps.
Dissolve: Dissolve the matcha in hot water (around 175°F or 80°C).
Blend: Use your Teangle Milk Frother or a bamboo whisk to blend until no clumps remain.
For Pumkin Cold Foam:
Combine: In another container, combine the heavy cream, maple syrup, pumpkin pie spice, and pumpkin puree.
Whisk: Use your Teangle Milk Frother to whisk until it becomes thick and creamy.
For Assembling:
Pour: Pour the milk with ice into a glass.
Add: Add your matcha paste on top and mix.
Top It Off: Using a spoon, gently layer the previously prepared pumpkin cold foam on top.
Enjoy & Spread the Love: We'd love to see your recipe! Tag your photos with @teanglematcha for a chance to win a free matcha bag!
---