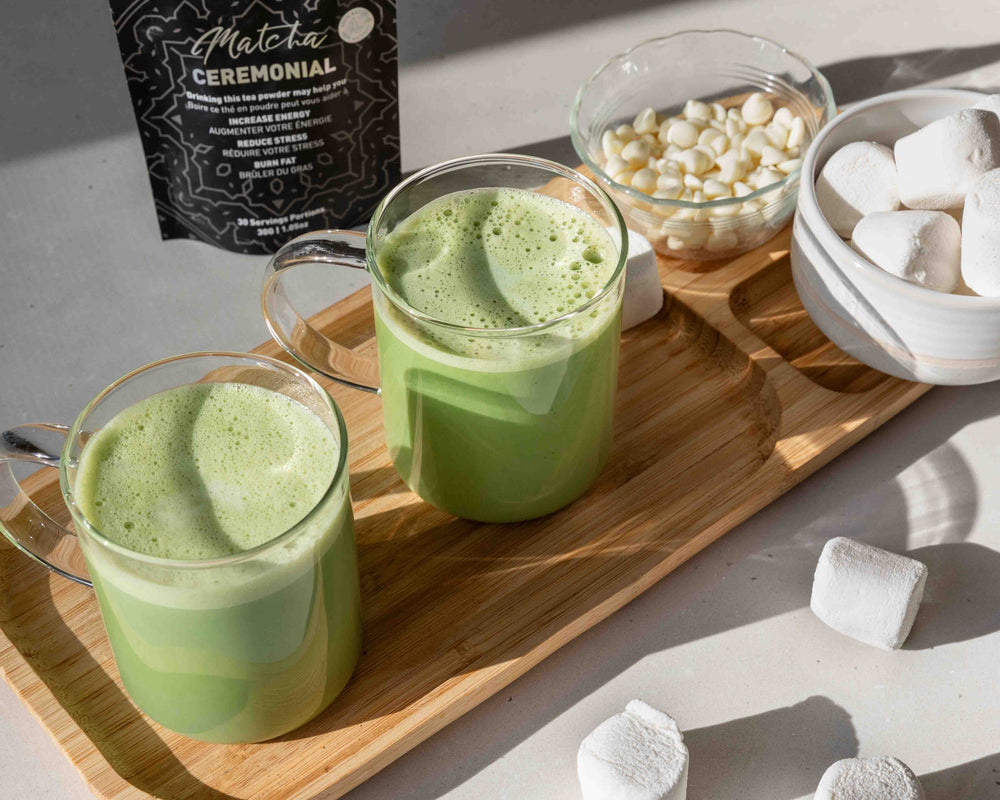 2 min read
Hot Matcha White Chocolate
Introducing…. A sippable hug! Imagine cuddling up with a dreamy blend of white chocolate and matcha. Picture that first sip – it's like a cozy blanket for your taste buds! Whip up this mug of fabulousness on those "I-need-a-little-extra-love" days and hey, snap that pic and tag @teanglematcha. You might just snag yourself a Free bag of Teangle matcha!
Servings: 2 (But you can double, triple, quadruple the recipe to make a matcha party 😉)
Preparation time: 10 minutes
WHAT YOU'll NEED TO MAKE THIS RECIPE
2 cups of your fave plant-based milk
4 tablespoons of white chocolate chips 
2 vibrant teaspoons of our Ceremonial matcha (a.k.a. the star of the show!)
¼ teaspoon of honey (or as you like it!)
A pinch of sass, oops, we mean salt, pink salt! 😉
4 toasted marshmallows (for that extra cloud-like finish☁️)
INSTRUCTIONS TO MAKE THIS DREAM A REALITY
Warm It Up:  In a saucepan, warm that milk up on medium flame. Remember, hot – but not boiling. We're going for cozy, not jacuzzi!

White Chocolate Dive: Once off the heat, whisk in your white chocolate. Stir until it's as smooth as your dance moves

Flavor Pop: Time to invite matcha, honey, and salt to the party. Mix 'em in!

Get Frothy: Give it a good stir with your milk frother

Pour & Adore: Drizzle your Hot Matcha White Chocolate into your favourite mug. Feeling a little extra? Top it with those toasted marshmallows.

Sip & relax: Sit back, take a sip, and let the world fade as you savor every moment.
---