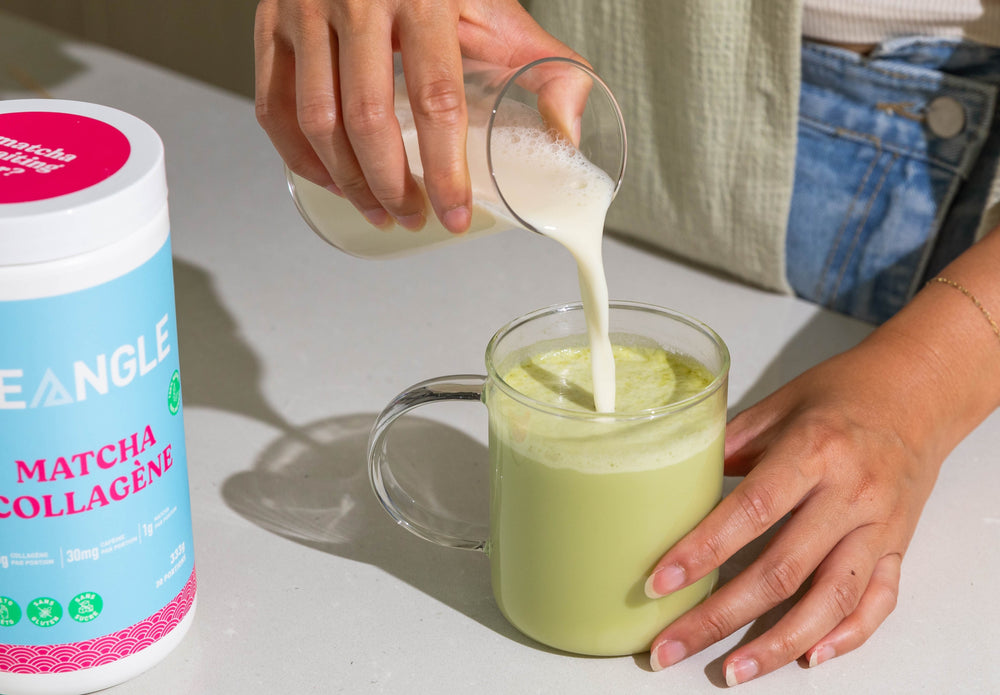 2 min read
How to Make the Perfect Matcha Collagen Latte for Glowing Skin
"Every mouthful is like swallowing a sweet and fluffy cloud!" Today, we're going to show you how to create the perfect hot matcha latte with Teangle's Matcha Collagen. This energizing recipe will not only delight your taste buds but also give your skin a new glow.
First off, what exactly is our Matcha Collagen? It's our all-in-one beauty & energy matcha blend that combines the power of Japanese Matcha and Marine Collagen. Currently voted as the #1 on Google across Canada!
Participate in Our Weekly Giveaway!
Make sure to try this recipe at home with your family, snap a pic, post it on Instagram, and tag us at @teanglematcha 📸 for a chance to win our weekly giveaway!
WHAT YOU'll NEED TO MAKE THE PERFECT MATCHA COLLAGEN LATTE
The Matcha Collagen Starter Pack includes everything you need!

STEP-BY-STEP INSTRUCTIONS
Preparation : First, grab your favorite autumn mug (for us, it's our MatchaWaitingForMug).

Dissolve the Matcha : Dissolve the Matcha in hot water—not boiling, but around 175°F (80°C).

Sweeten : Add the sweetener of your choice, such as honey or maple syrup (optional).

Blend : Use your Teangle Milk Frother to blend until there are no more clumps.

Froth the Milk : Warm up your favorite plant-based milk and froth it for a whole minute.

Combine : Add the frothed milk to your matcha and mix.

Enjoy : Savor your drink as is, wrapped in a cozy blanket, or add extra ingredients to make it even more special.
---