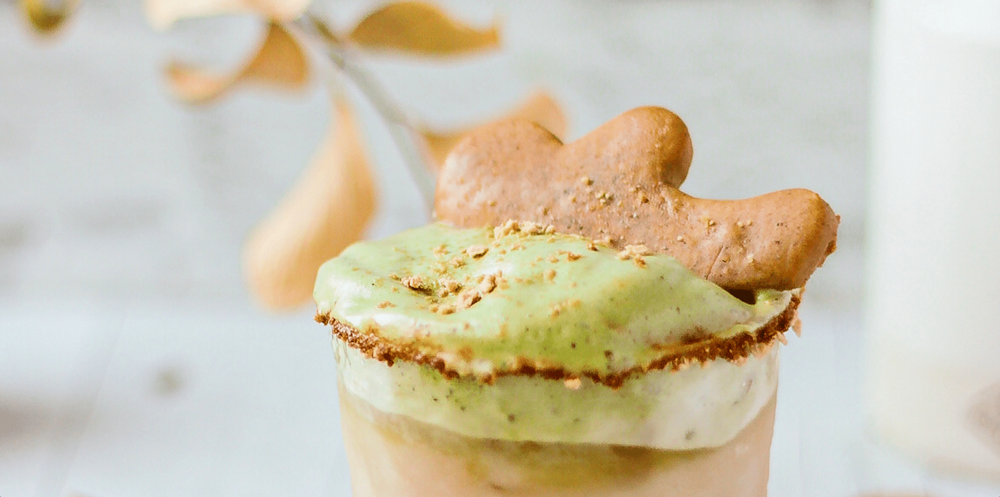 2 min read
Gingerbread Matcha Dalgona
It's Beginning to "Taste" a Lot like Christmas!
HO-HO-HO YES! Treat yourself with this delicious holiday twist on a classic dalgona. Our deliciously sweet, spicy and energizing Gingerbread Matcha Dalgona will get you in the festive spirit anytime, anywhere. 
Super simple to make at home in just 2 quick steps, just crank up Michael Bubble and get whipping! 
THIS MATCHA DALGONA IS:
Vegan

Energizing

Perfect for those snowy days!
INGREDIENTS (2 dalgonas)
¼ cup of aquafaba (liquid found in a can of chickpeas)
2 tbsp of maple syrup or other sweetener
1 tbsp of Teangle Ceremonial Matcha or Teangle Chai Matcha
Ice cubes
2 cups of plant-based milk
½ cup of concentrated Chai Tea
2 gingerbread man biscuits for presentation
PREPARATION
To prepare the Matcha mousse, use an electric hand mixer or your Teangle Matcha Frother and mix the aquafaba until it starts to foam. Add in the sugar and Matcha and mix again. This can take up to 5 minutes to get that extra creamy, extra dreamy foam! 
To serve, fill to glasses with ice cubes. Fill half of the glass with milk and the other with Chai tea concentrate. Garnish glasses with Matcha Cream and top it off with a Gingerbread man cookie! 
Take a photo of your Gingerbread Matcha Dalgona and make sure to tag us @teanglematcha
---