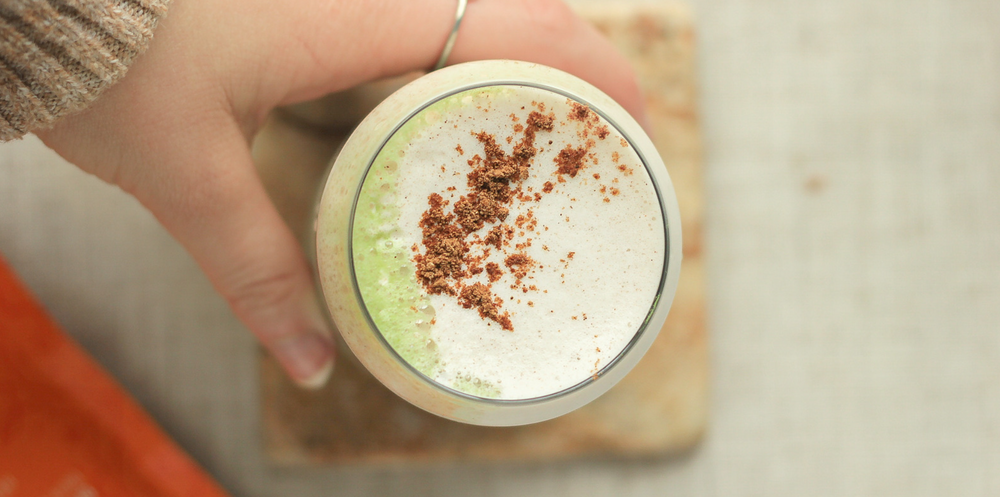 2 min read
Creamy Pumpkin Matcha Chai Latte
Pumpkin, spice and everything...MATCHA?! 
YUP, meet your new favorite Fall drink! Subtly sweet, soothing, and spicy, this Pumpkin Matcha Chai Latte will warm your body, heart, mind & soul. 
 If you're looking for a boost of healthy energy for those extra tough (or cold) days...look no further!  
This latte is filled to the brim with all the feel-good benefits of Matcha. Your just a sip and a mhmmmm away from meeting your new go-to this season!
THIS MATCHA LATTE IS:
Vegan

Energizing

Dreamy Creamy!
INGREDIENTS (2 lattes)
¼ cup of dairy-free cream 

2 tbsp of plant-based milks

1 tbsp of pumpkin puree 

⅛

 tsp of pumpkin pie spices 

1-3 tsp of maple syrup (or to taste) 

1 tsp of vanilla extract 

1 cup of warm water 

1 tsp of Teangle Matcha Chai 

Ice cubes
PREPARATION
To prepare the pumpkin cream, combine the dairy-free cream, the milk, the pumpkin puree, spices, maple syrup and vanilla in a tall glass. Using a milk frother, froth until the cream thickens and doubles in volume. Keep. 
To prepare your two lattes, dissolves Teangle Chai Matcha in hot water. Divide between two glasses. Fill the glasses with ice and pour in the pumpkin cream. Garnish with a pinch of pumpkin spices.  
Take a photo of your Creamy Pumpkin Matcha Chai Latte and tag us, @teanglematcha
---