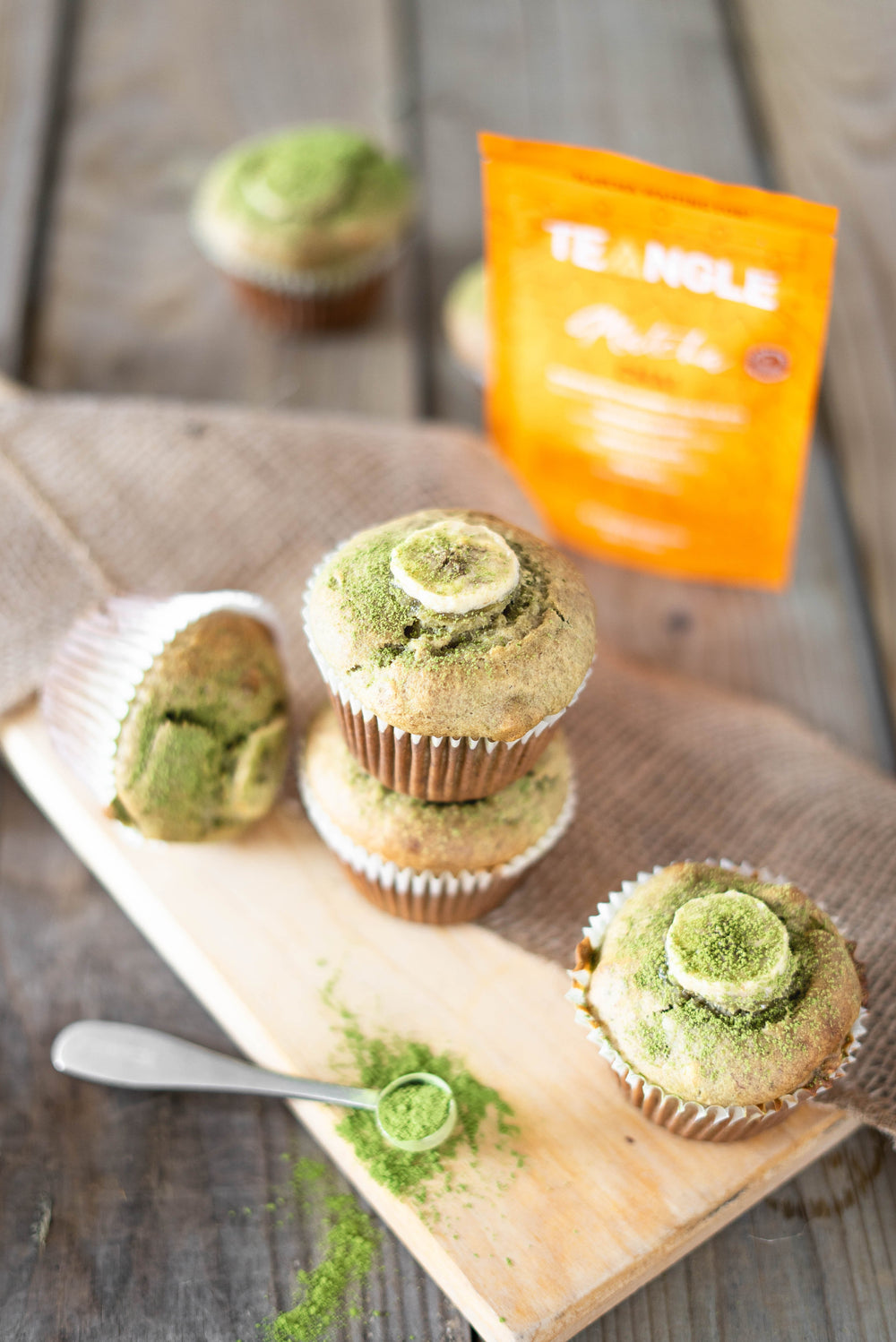 3 min read
Autumn Matcha Muffins
Fall is upon us!
The air is crisp and fresh, the sun seems exhausted (after all these heat waves, who can blame him), the wind begins to dance in the leaves, leaves that will soon become full of colours and... as you can see, this time of year makes us pretty poetic, at Teangle!
 It's time to take out your knitwear from the cedar closet and stay wrapped up at home, a good muffin in hand.
This recipe, healthy and vegan, soft and comforting will satisfy all the family.
 If you make our recipe, please snap a pic, post it on Instagram, and tag us at @teanglematcha
THESE MATCHA
 MUFFINS

 ARE:
Naturally vegan 

Filled with Nutrients and Vitamins

Energizing 
INGREDIENTS
3 cups of all-purpose flour

1/2 cup of maple syrup

1/4 cup of brown sugar

2 tsp of ground cinnamon

2 tsp of baking powder

1 tsp of baking soda

1 tsp of Teangle Matcha Chai

1 tsp of salt

2 cups of ripe bananas, mashed

1 cup of canola oil

1 cup of oat milk
Bananas, used in place of fat, provide additional nutritional value to the recipe and make muffins lighter: in fat and texture.
Oat milk, not very well-known, is full of good things: vitamins A, B, E, potassium, fibers, iron ... in addition to being low in calories, sugar and fat!
Small bonus: the sweet smell of cinnamon, ginger, nutmeg and cardamom that will embalm all the rooms of your home!
We suggest you heat them for 20 seconds in the microwave, cut them in half and butter them with a little nut or vegan butter.
To enjoy without guilt, morning, noon or night !
INSTRUCTIONS: 
Preheat the oven to 350 ° F.

In a bowl, combine the dry ingredients: flour, brown sugar, cinnamon, baking powder, baking soda, Teangle Matcha chai and salt.

In another bowl, combine the mashed bananas, canola oil, maple syrup and oat milk. Combine the ingredients with the dry mix and stir until everything is smooth.

Transfer the dough into the lined muffin cups.

Bake for 30 to 35 minutes.

To check if they are ready, insert a toothpick or knife into the center of the muffin. The toothpick or knife should come out clean with no streaks of batter.
---