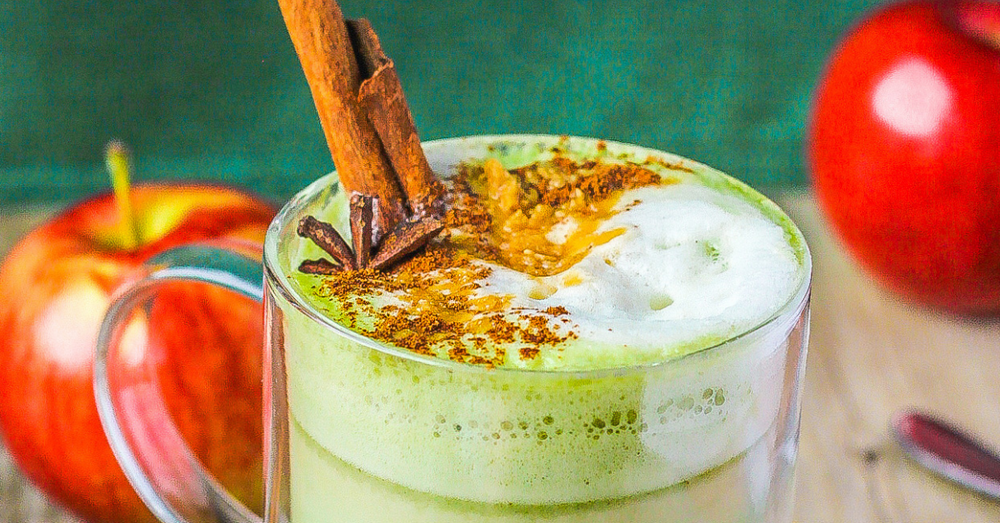 2 min read
Apple Oat Matcha Latte
Move Over Pumpkin, There's a New Latte in Town ! Meet your new fall favorite : THE Apple Oat Matcha Latte. This latte has the ultimate cozy factor. It's basically like drinking your gran's apple pie (minus the guilt *wink). Um YUM ! Can we get an Amen !!

THIS APPLE OAT
 

MATCHA LATTE IS : 
Delicious 

Naturally sweetened  

Extra cozy (& EXTRA energizing)
INGREDIENTS (1 LATTE)
For the apple cinnamon syrup* 
½ cup applesauce 

½ cup maple syrup 

1 cup of warm water 

1 tsp of cinnamon 

1/8 tsp of salt
*Will last for 10 lattes
For the latte 
½ tsp. of Teangle Matcha (especially delicious with the chai)

¼ cup of warm  water (never boiling)

 2 to 4 tbsp. tablespoon of apple-cinnamon syrup 

1 cup oat milk 

1 tsp maple flakes 
INSTRUCTIONS
Apple cinnamon syrup 
In a small saucepan, combine all the ingredients for the apple cinnamon syrup. Bring to a boil over high heat, then lower the heat to medium and simmer for 10 minutes. 
For the latte
In a cup, dissolve the matcha in hot water. 

Add the apple syrup to the matcha and taste to adjust the amount of syrup. 

Froth the milk and pour over the matcha. 

Sprinkle with maple flakes and, if desired, caramelize using a pastry torch.
Note : Maple flakes are found in most grocery stores right next to the sugar. In equal portions, it is half the sweetness of classic white sugar, plus it tastes delicious. Otherwise, you can easily replace it with coconut sugar or brown sugar.
Take a picture, share it on Instagram and tag us @teanglematcha
---