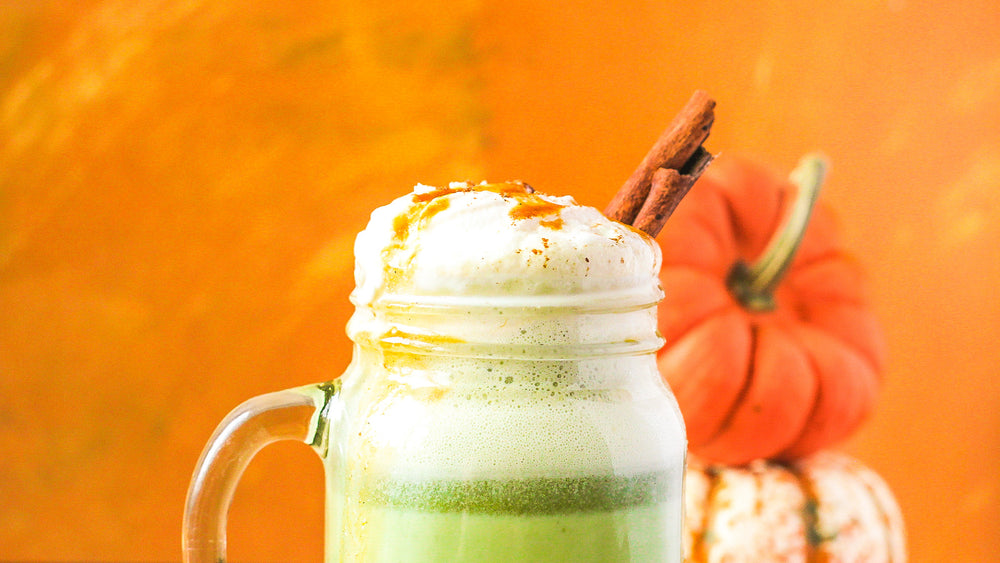 2 min read
Pumpkin Spice Matcha Latte
Imagine curling up on the couch with fuzzy socks and a warm mug of pumpkin spiced Matcha latte ! Um yes, please ! 
This easy, homemade & healthy recipe will hug your taste buds (just like that cozy sweater you're wearing!)
You'll be sharing this with all your friends. It will give you 'pumpkin' to rave about *wink

THIS PUMPKIN SPICE MATCHA LATTE IS : 
FOR THE PUMPKIN SYRUP
INGREDIENTS (YOU WILL HAVE ENOUGH FOR 10 LATTES)
1 cup of coconut milk 

½ cup coconut sugar, maple syrup or sugar-free sweetener 

½ cup of pumpkin puree 

1 tbsp pumpkin spice * 

1 tbsp of vanilla extract

¼ tsp. salt 
INSTRUCTIONS
In a small saucepan, combine all the ingredients. Bring to a boil, reduce the heat to medium and simmer 10 minutes or until the syrup thickens slightly. 
FOR THE LATTE
INGREDIENTS (1 LATTE)
¼ cup hot water 

2 tbsp of Teangle Chai Matcha

1 cup of plant based milk

Whipped coconut cream and pumpkin spice (optional) 
INSTRUCTIONS
Dissolve the chai Matcha in hot water. 

Add 1 to 2 tbsp. pumpkin syrup, to taste. 

Heat and froth the plant based milk and pour over the chai matcha you prepared. 

Top with whipped coconut cream and a pinch of pumpkin spice 
 * To make your own pumpkin spices : 
2 tsp cinnamon 

2 tsp ground ginger

½ tsp nutmeg 

⅛ tsp of cloves 
Take a picture, share it on Instagram and tag us @teanglematcha
---