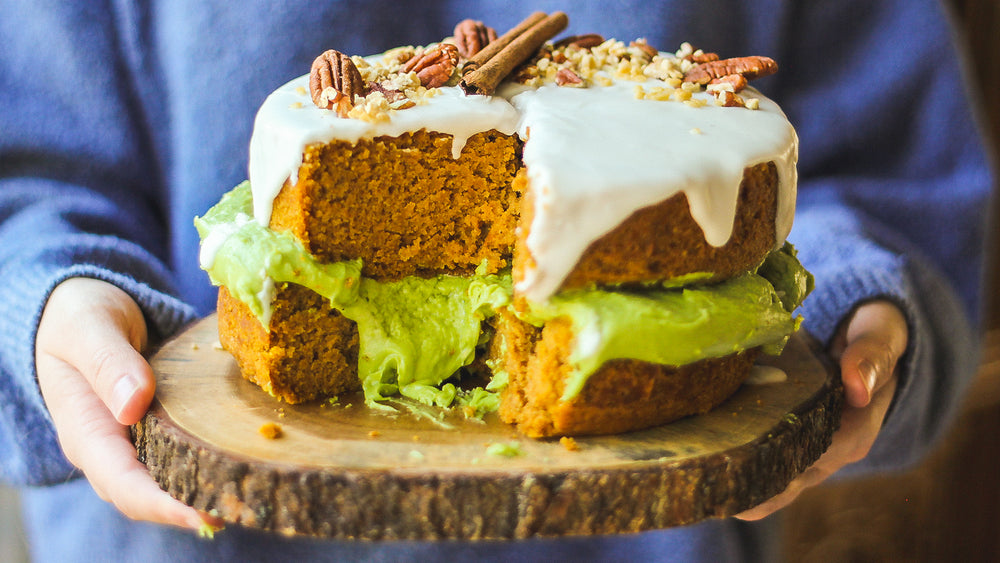 4 min read
Pumpkin & Matcha Cake
Pumpkin, cinnamon, nutmeg, matcha - doesn't it all just make you feel warm and fuzzy inside ?
This pumpkin & Matcha cake is the ultimate fall treat ; easy to make, soft, super moist, and stuffed with a creamy homemade Matcha icing. 
It practically eats itself!
How long would it take you to finish this whole cake? 
THIS 

MATCHA

 CAKE IS

 : 

 
FOR THE PUMPKIN & MATCHA CAKE 
INGREDIENTS 
2 tsp apple cider vinegar
1 cup flour (gluten free or all-purpose)
⅓ cup + 1 tbsp ground almonds
1 tsp teaspoon ground ginger
⅓ cup + ¼ cup pumpkin puree
FOR THE VEGAN WHIPPED CREAM 
1 cup vegan cream cheese or coconut cream (the solid part of 2 cans of coconut milk refrigerated overnight)

2 cups of powdered sugar

1 tsp ceremonial matcha

1 tsp of vanilla

1 pinch of salt
FOR THE MAPLE ICING
INSTRUCTIONS 
For the Matcha & Pumpkin Cake:
Preheat the oven to 350 degrees F

Oil a 9-inch pan and line the bottom with parchment paper.

In a bowl, combine all the ingredients for the crumble until you get a sandy texture. Reserve.

Combine the coconut milk and apple cider, then let stand while the dry ingredients are combined.

In a large bowl, combine the flour, ground almonds, baking powder, baking soda, salt, spices and brown sugar.

Add the pumpkin puree, vegetable oil, coconut milk and vanilla extract, then mix.

Pour in the boiling water and mix until you get a smooth paste.

Transfer to the oiled pan.

Bake for 30 to 40 minutes or until a toothpick inserted in the center of the cake comes out clean.
For the Matcha Cream:
Using an electric mixer, whip the vegan cream cheese or coconut cream for 5 minutes.

Gradually add powdered sugar, ½ cup at a time, whisking between each addition.

Add the matcha, vanilla and salt and whisk one last time. If the icing seems too runny, add a little powdered sugar. If the icing seems too thick, add a drizzle of vegetable milk.
For the Maple Icing:
In a small bowl, mix all of the ingredients.
Assemblage:
When the cake has cooled, cut in half to make two layers of cake.

Place the first layer on a serving plate. Top with matcha frosting. Cover with the second layer of cake. Drizzle maple frosting on top of cake, making sure to drizzle down sides.
Going to make this delicious Pumpkin & Matcha Cake ?! Take a picture, share it on Instagram and tag us @teanglematcha
---