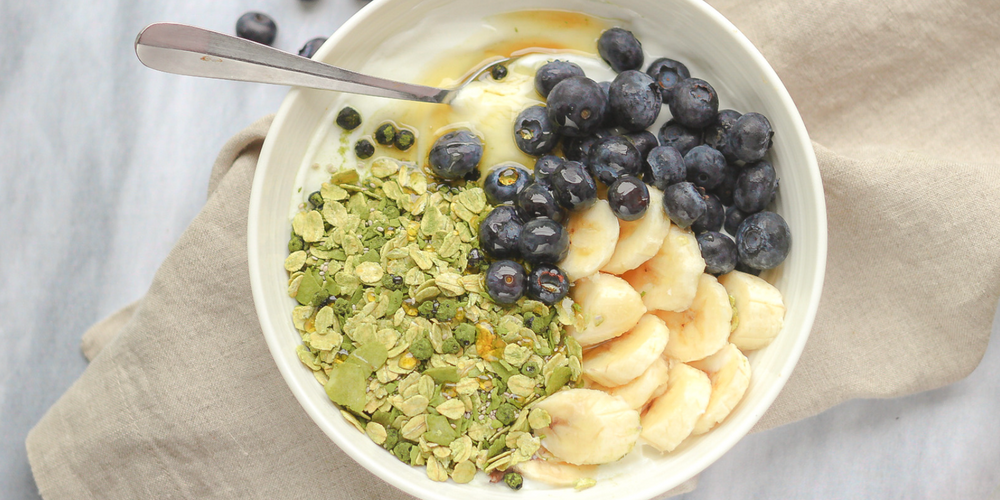 1 min read
Overnight matcha oat
Breakfast? Yes! We looooove breakfast, but sometimes, we're rushing out the door & simply don't have time.
Luckily for us (and YOU) we whipped up an Overnight Oat Matcha recipe AKA a yummy ready-to-eat breakfast.
Your mornings won't ever be the same. You're welcome ;) !
THIS MATCHA OAT IS:
Vegan
Super practical for breakfast
Filled to the brim with nutrients!
INGREDIENTS
Oat mix
2 cups quick-cooking oats
½ cup of flaked almonds
½ cup of coconut flakestasse de flocons de noix de coco
½ cup of dried blueberries
½ cup of chia seeds 
2 c. tbsp of Teangle Matcha (Chai, Ceremonial or Collagen)
Overnight oats
⅓ cup of the oat mix
⅓ cup of plant-based yoghurt 
⅔ cup of plant-based milk
PREPARATION
In a large bowl or mason jar, mix all of the ingredients. Keep in the fridge overnight.
Garnish with fresh fruits or a drizzle of maple syrup and honey. 
Take a photo of your overnight Matcha oats, share it on instagram and tag us @teanglematcha
---