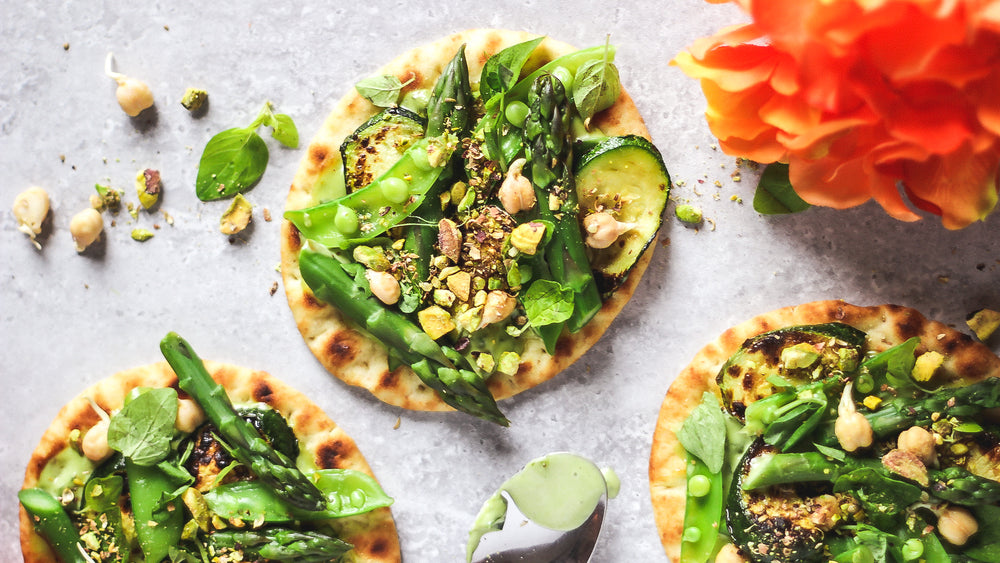 3 min read
Naan Bread With Vegetables & Matcha-Lime Mayonnaise
We know that your love for mayo is (almost) as big as your love for Matcha. That's why we decided to combine the two in this irresistible Matcha & Lime Mayonnaise.
Deliciously fresh and creamy, you'll want to dip, drizzle and dollop this mayo ON EVERYTHING… yup just like this vegetable naan bread we cooked up.
"Hold the mayo" no more with this healthy recipe!
THIS NAAN BREAD WITH VEGETABLES & THIS
MATCHA-LIME MAYONNAISE ARE :

 
INGREDIENTS (10 SMALL NAAN BREADS)
Mayonnaise lime, basil & matcha
 ¼ cup of finely chopped basil leaves
 1 tbsp of coriander seeds
Toppings
 ¼ cup of fresh basil or other herb (thyme, coriander, lemon)
INSTRUCTIONS :
Break the asparagus in two.
Steam the asparagus for 3 minutes. Add sweet peas and steam for 3 more minutes. The vegetables should be tender but still crunchy. Transfer them into an ice bath so they conserve their color and crispness. Then pat the vegetables dry with a clean dish towel.
In a lightly oiled pan, grill the zucchini rings for about ten minutes 
Mayonnaise 
While your vegetables cook, prepare the mayo by mixing all of the ingredients together. 
Pistachio Dukkah
Using a mortar and pestle, crush all the ingredients. Alternatively, this step could be done using a food processor.
Assembly 
Cut the asparagus into wedges so that they are about the same size as the sweet peas. 
Heat naan bread in pan for a few minutes 
Spread a spoon of mayonnaise on each naan bread.
Garnish with grilled zucchini slices, asparagus, sweet peas and fresh herbs, then drizzle oil over the naan. Sprinkle with pistachio dukkah and enjoy.
Take a picture, share it on Instagram and tag us @teanglematcha
---