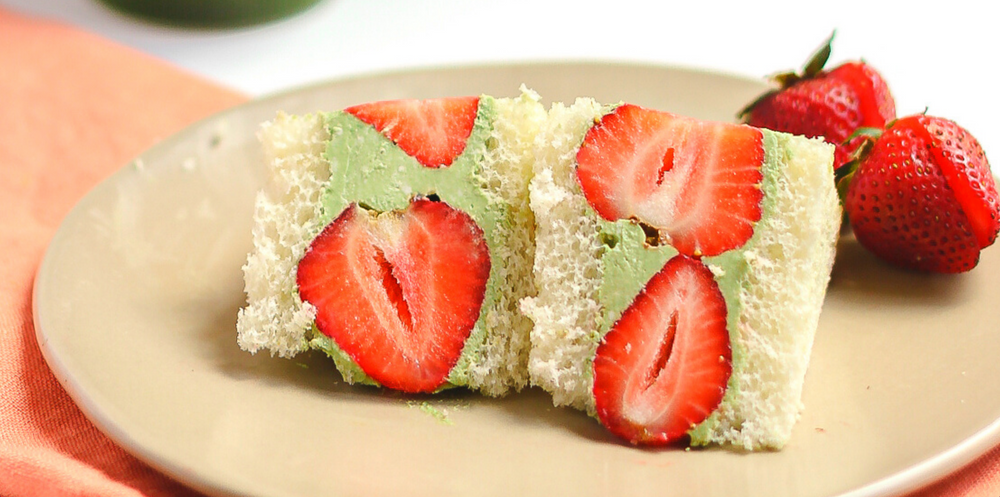 2 min read
Matcha & Strawberry Sando
Not sure what to pack for lunch or your next picnic? How does fluffy bread packed with sweet Matcha whipped cream and strawberries sound?
You're totally drooling right?! We don't blame you. This Matcha & Strawberry Sando is bursting with energy and sweet & juicy flavors with every bite. 
Wildly fun to look at, and also delicious, this decadent treat is THE most refreshing sandwich to indulge in during the summertime. 
Ready to take your sandwich game to the next level?
THIS MATCHA SANDWICH IS:
Vegan

Refreshing

Perfect for that summer picnic!
INGREDIENTS
For 1 sandwich 
½ cup canned coconut whipping cream

2 tsp maple syrup

1 tsp vanilla

2 slices of bread*

6 hulled strawberries
PREPARATION
In a bowl, whip the coconut cream, maple syrup, vanilla and matcha.

Spread the whipped matcha cream on a slice of bread.

Add the strawberries, forming an X on the bread. Cover with whipped matcha cream and top with the second slice of bread. Let it sit in the fridge for at least an hour.

Cut off the bread crusts and cut the sandwich diagonally.

Serve as a breakfast, dessert or fruity snack.
*A brioche bread works perfectly for this delicious recipe.
Going to make this Matcha & Strawberry Sandwich?! Take a picture, share it on Instagram and tag us @teanglematcha
---