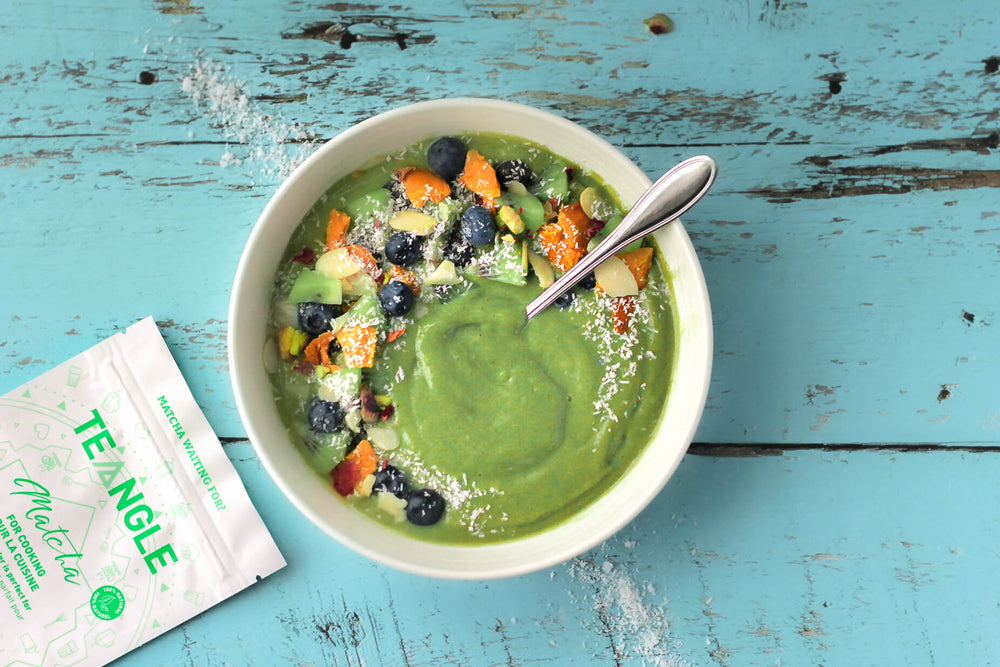 2 min read
Matcha Smoothie Bowl
If you like simple, healthy & drool-worthy breakfasts, you're going to L-O-V-E our Matcha Smoothie Bowl.
This bowl is overflowing with antioxidants and vitamins. You'll get energy, brain power & an immunity boost in every mouthful! 
Grab your spoon, dig in - and make your taste buds super happy!
THIS MATCHA SMOOTIE BOWL IS: 
Vegan

No gluten

Perfect to start off the day right!
Gives 1 Bowl!
FOR THE MATCHA SMOOTHIE BOWL
INGREDIENTS 
¼ cup of liquid (plant-based milk, plant-based yogurt, fruit juice or silky tofu)

1 cup of frozen mango

1 frozen banana cut into slices

1 tsp. of Teangle Ceremonial Matcha

1 tsp. of lime zest
INSTRUCTIONS 
In a blender, combine all ingredients. Blend in blender and puree. 

Transfer to a bowl and garnish with coconut flakes, kiwi slices, hemp seeds…
Notes according to the type of mixer used:
With a vitaminix type blender, add the liquid first. The ingredients will mix much better. If necessary, use the stick provided to push the ingredients close to the blade;

With a "bullet" or "ninja" type blender, add all the ingredients and finish with the liquid. Close the lid and shake vigorously before placing on the base and operating the appliance. This allows the ingredients to mix better before being pureed. 

With a standard mixer, i.e. less powerful, add a little liquid if the ingredients do not seem to mix. 

This recipe can also be made in a food processor.
Going to make this Matcha Smoothie Bowl?! Take a picture, share it on Instagram and tag us @teanglematcha
---