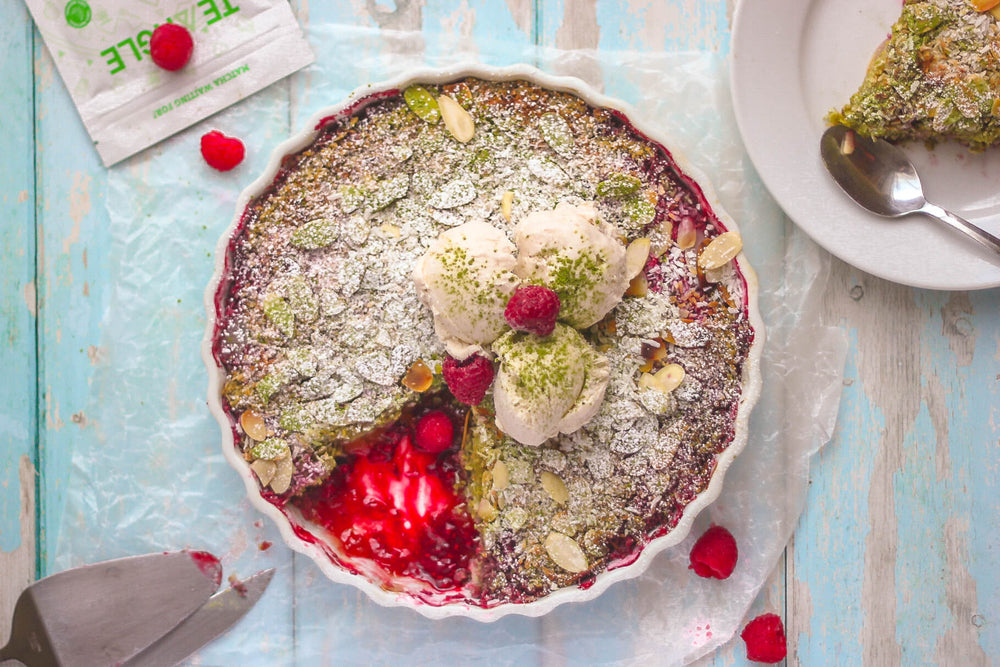 2 min read
Matcha & Raspberries Oatmeal
Yup. We know what you're thinking...oatmeal is BOOORRRIIIINNNG.
Well, say sayonara to dull oats. We're taking oatmeal to the next level! Every spoonful of this Matcha & Raspberry Oven Baked Oatmeal will transport you to a flavorful and fantastical universe. 
Just one bite and you'll be fueled with delicious energy -ready to tackle your day (or that ex of yours *wink)!
THIS 

MATCHA

 OATMEAL IS

: 
Vegan

No gluten

& so nutritious ! 
*Perfect for breakfast, a snack and even dessert (just add a touch of coconut yogurt or vegan ice cream).
FOR THE OATMEAL
INGREDIENTS 
2 cups oat flakes

¼ cup of coconut flakes

¼ cup of slivered almonds

1 tsp. cinnamon

1 tsp. matcha

½ tsp. of salt

¼ cup of maple syrup

¼ cup of melted coconut oil

1 cup of non dairy

2 cups of frozen raspberries

A little more coconut flakes and slivered almonds for garnish

 
INSTRUCTIONS 
For the Matcha-Raspberries Oatmeal
Preheat the oven to 350F.

In a bowl, mix oats, coconut, cinnamon, matcha and salt. Add all liquid ingredients and combine. 

Oil a pie pan of about 8 inches and spread the raspberries in the bottom.

Cover raspberries with the oat mixture and garnish with a handful of coconut flakes and slivered almonds.  

Bake for 30 minutes, then cool completely before serving with coconut yogurt, whipped coconut cream or vegan ice cream.
Note: 
It is possible to replace raspberries with blueberries, a mixture of strawberries and rhubarb or seasonal fruit. 

For a gluten free version, use gluten free oat flakes or quinoa and buckwheat flakes.
Going to make this Matcha&Raspberries Oatmeal?! Take a picture, share it on Instagram and tag us @teanglematcha
---