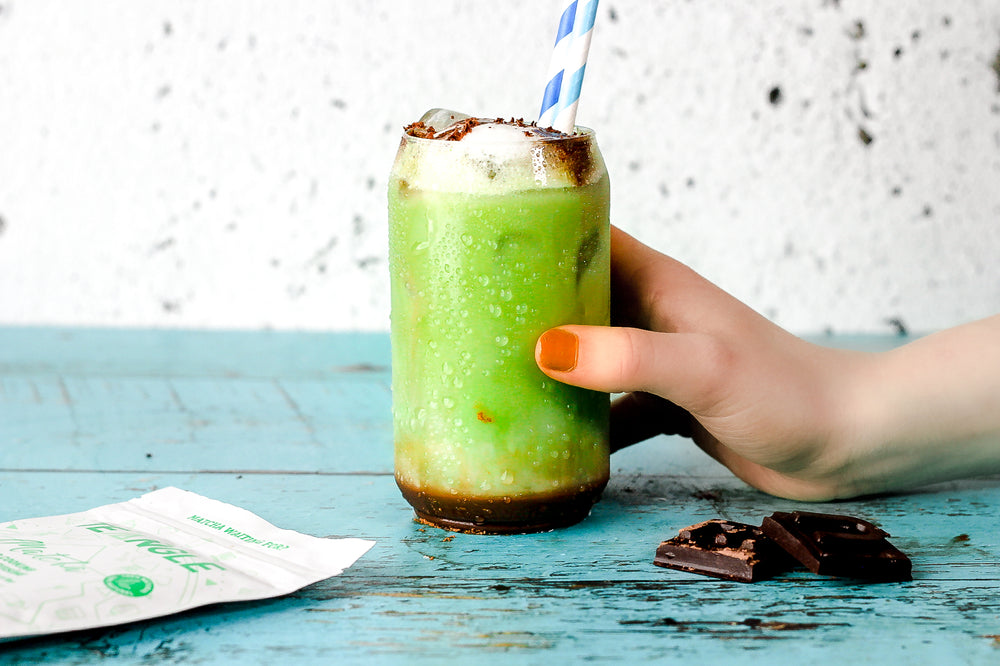 1 min read
Matcha Mocha
If you don't want to dive face first into this Matcha Mocha, then who even are you?! 
 It's deliciously creamy and serenely sweet, finishing with a subtle coconut twist.
This is the perfect guilt-free treat that'll give you a spring in your step & keep you coming back for repeats!

THIS MATCHA MOCHA IS: 
FOR 1 LATTE:
INGREDIENTS 
Homemade Chocolate Syrup*:
¼ cup of vanilla protein powder
¼ cup of cocoa
¼ cup of cold coffee or water
Matcha Mocha: 
INSTRUCTIONS
Homemade chocolate Syrup*:
Combine protein powder, cocoa and coffee in a small bowl. 

If necessary, add coffee or water to obtain the texture of chocolate syrup.
Reserve in the fridge.
Matcha Mocha: 
Dissolve the matcha in hot water.
In a glass, pour the protein chocolate syrup.
Add ice to fill the glass.
Pour the coconut milk into the glass and finish by adding the matcha.
Going to make this Matcha Mocha?! Take a picture, share it on Instagram and tag us @teanglematcha 
---