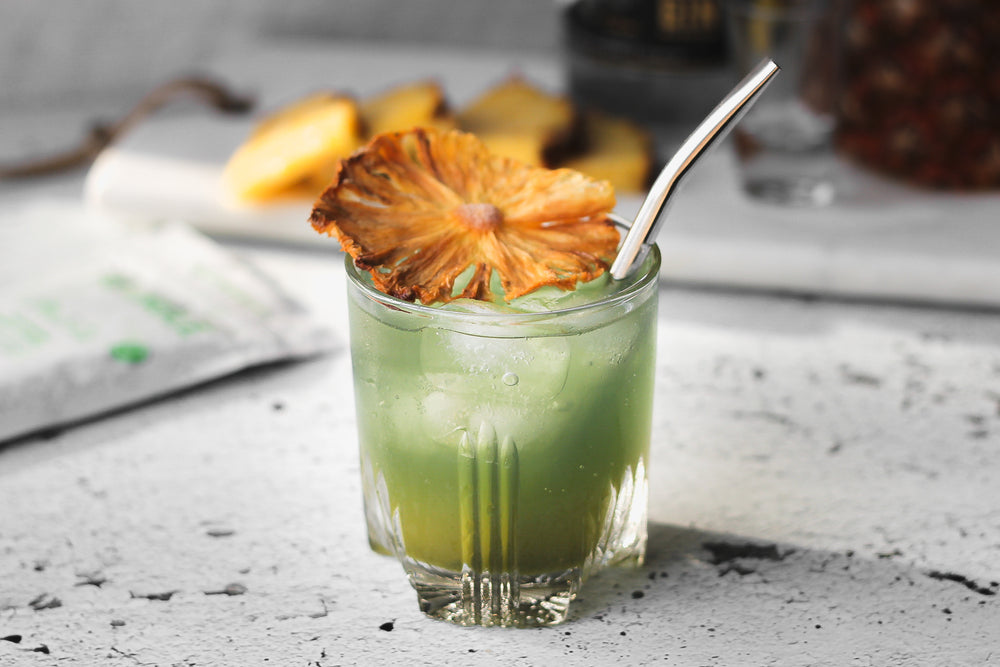 2 min read
Matcha Kombucha & Gin Cocktail
Love Matcha for its energy? Wait until you take a sip (OK..a glass..or two *wink!) of this Matcha Kombucha & Gin Cocktail. You'll be the life of the party… or your "living room" *wink!
Talk about a perfectly fizzy and refreshing drink!
Ring-a-ling-dong-ding. It's happy hour!!!
THIS MATCHA COCKTAIL IS:
Like taking a sip of the tropics
FOR 1 COCKTAIL:
INGREDIENTS
4 pineapple cubes
A pinch of salt
¼ tsp of Teangle Ginger & Lemongrass Matcha
1,5 oz of local gin with or without alcohol*
1,5 oz of local tonic water*
3 oz of pineapple and kiwi kombucha*
Ice cubes
INSTRUCTIONS
In a shaker or in the Teangle bottle, add the pineapple, salt and matcha. With a cocktail muddler, press the pineapple to extract its juice.
Strain the mixture to keep the juice only and pour in an old fashioned glass.
Fill the glass with ice cubes.
Add the gin, tonic and kombucha.
Mix with a cocktail spoon to cool the cocktail.
Top with a fresh or dried pineapple slice and a small straw.
*If you don't have a shaker, you can use the Teangle bottle. It's perfect to strain the pineapple mixture.
*1 oz = 2 tbsp
Going to make this Matcha Kombucha & Gin Cocktail at home?! Take a picture, share it on Instagram and tag us @teanglematcha
---