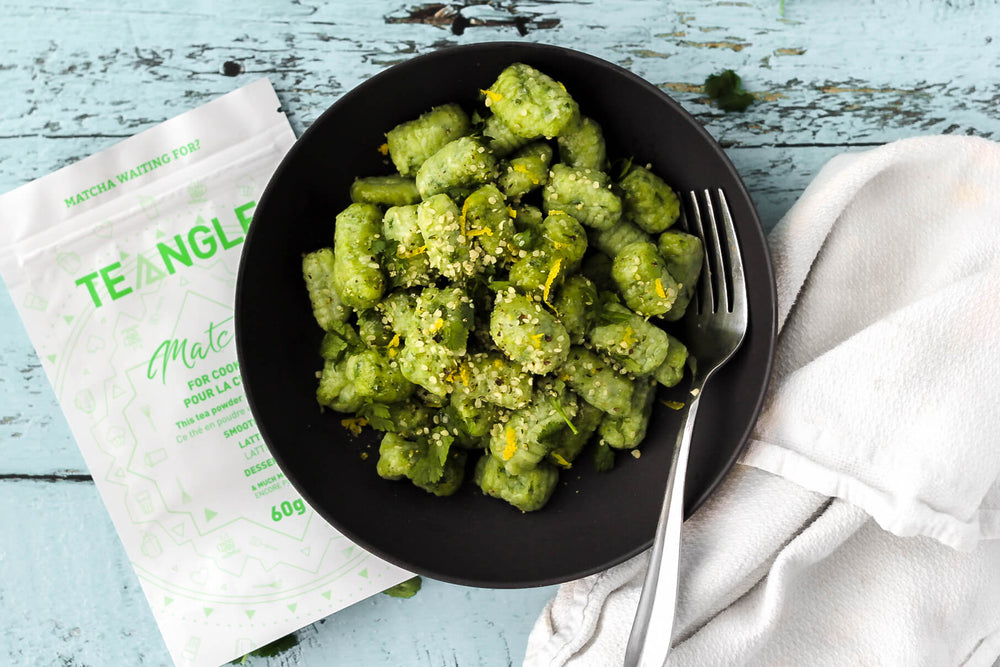 4 min read
Matcha & Kale Gnocchi
Can't decide between Japanese or Italian for dinner? Fear not! Your taste buds can have the best of both worlds. Yup, we're taking them on a first-class intercontinental trip!  
Japan meets Italy in an explosion of flavor with our quick and easy Matcha & Kale Gnocchi. 
Pour yourself a glass of wine (or Matcha!) and get your gnocchi on!!
THIS MATCHA GNOCCHI IS: 
Vegan

No gluten

Energizing
Gives 2 servings!
FOR THE MATCHA & KALE GNOCCHI
INGREDIENTS 
For the Gnoochi
 A 340g bag of frozen cauliflower rice*

1 cup of kale

½ cup of plant based milk

1 tsp. of olive oil

1 tsp. of Teangle Ceremonial Matcha

¼ tsp. of garlic powder

¼ tsp of salt

1 cup of all-purpose or gluten-free flour
For the sauce
 A drizzle of olive oil

¼ cup of chopped parsley

The juice and zest of a lemon

A good pinch of fleur de sel

Black pepper to taste
INSTRUCTIONS 
Microwave cauliflower in the freezer bag according to directions on the package.

Open the bag and transfer the cauliflower rice to a dish cloth. Squeeze out excess liquid. *

Combine cauliflower, kale, vegetable milk and olive oil in a food processor. Pulse to puree.

Add Matcha, garlic powder, salt and flour. Pulse until a homogeneous paste is obtained.*

Bring a large pot of salted water to a boil.

Meanwhile, transfer the dough to a floured work surface.

Divide the dough into 4 portions and roll each into long rolls. Cut the rolls into gnocchi of about 2 cm.

Once the water has boiled, place the gnocchi. Stir to prevent them from sticking. Cook for 2-3 minutes, until the gnocchi float to the surface.

Using a skimmer or small colander, collect the gnocchi and transfer to a large dish.

Add all the ingredients "for the sauce" to the large dish and mix to coat the gnocchi.

Serve and garnish with nutritional yeast, hemp seeds and freshly ground pepper.
Note: 
It is possible to make this recipe with a whole cauliflower. In this case, weigh 340g of cauliflower (about ¼ medium size cauliflower) and grate by hand or pulse in a food processor to make cauliflower rice. Transfer to a microwave-safe dish, add a trickle of water and cover with plastic wrap or microwave lid. Cook on high power for 6 minutes. Continue the recipe according to the directions above. 

The dough may be sticky: it's normal. That's why you should flour the work surface to prevent it from sticking to the dough.
Going to make the Matcha & Kale Gnocchi?! Take a picture, share it on Instagram and tag us @teanglematcha
---