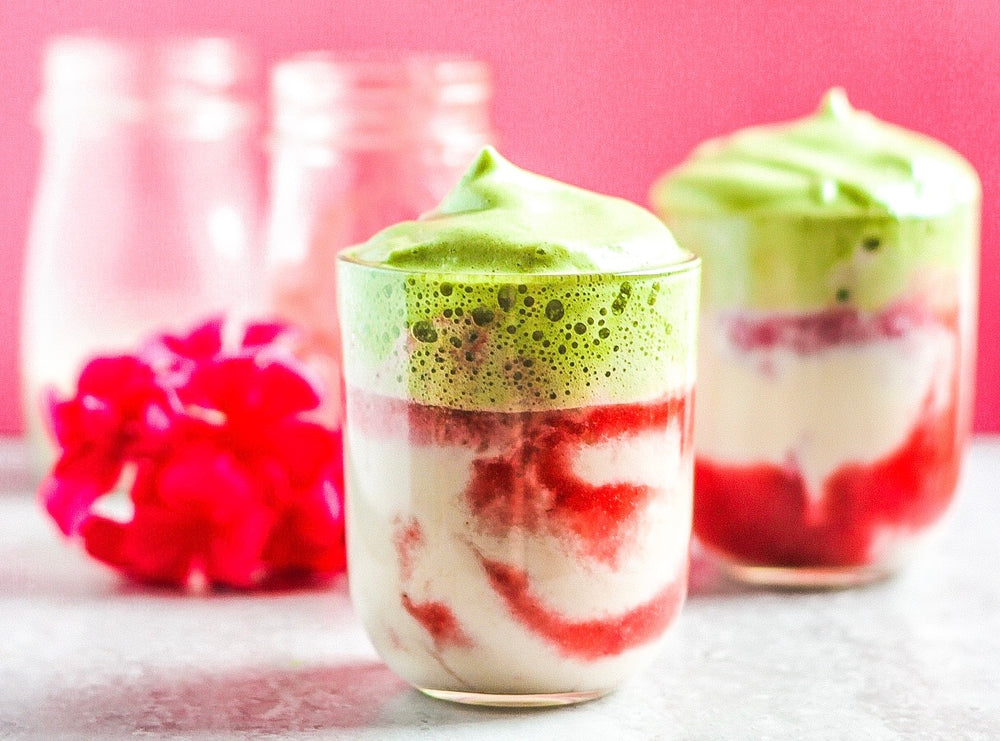 2 min read
Matcha Dalgona Latte
Soak up the sun…and sip on this delicious iced Matcha & Strawberry Dalgona.  If you're a fan of matcha lattes and strawberries, this one is for you; a Matcha made in heaven (lame pun, we know, but hey… ).

Go lose yourself in it's layers of fresh strawberries, creamy milk and matcha. 

A total treat for your taste buds and your eyes !! 


THIS
 

MATCHA

 DALGONA

 IS:
Vegan 

Low in fat

Naturally sweet and creamy
INGREDIENTS (2 DRINKS)
¼ cup of aquafaba

2 tablespoon to ¼ cup of maple syrup

1 teaspoon of our Matcha

1 teaspoon of vanilla extract

½ cup of strawberries (not frozen)

Ice cubes

2 cups of non-dairy milk

¼ teaspoon of cream of tartar 
INSTRUCTIONS:  
Using a hand mixer or a whisk, vigorously whisk aquafaba and cream of tartar until it thickens (about 3 minutes). Add the maple syrup and mix until it forms a thick creamy foam (5 minutes). Add matcha and vanilla extract and whisk to combine. 

Using an electric mixer, puree the strawberries.

Divide the strawberry puree into two glasses.

Add a few ice cubes and fill with non dairy milk.

Top with the matcha meringue and enjoy!
Add a strawberry on top and it will be like the cherry on the Sundae ;)

If you make this refreshing Matcha & Strawberry Dalgona or any of our recipes, please snap a pic, post it on Instagram, and tag us at @teanglematcha

---