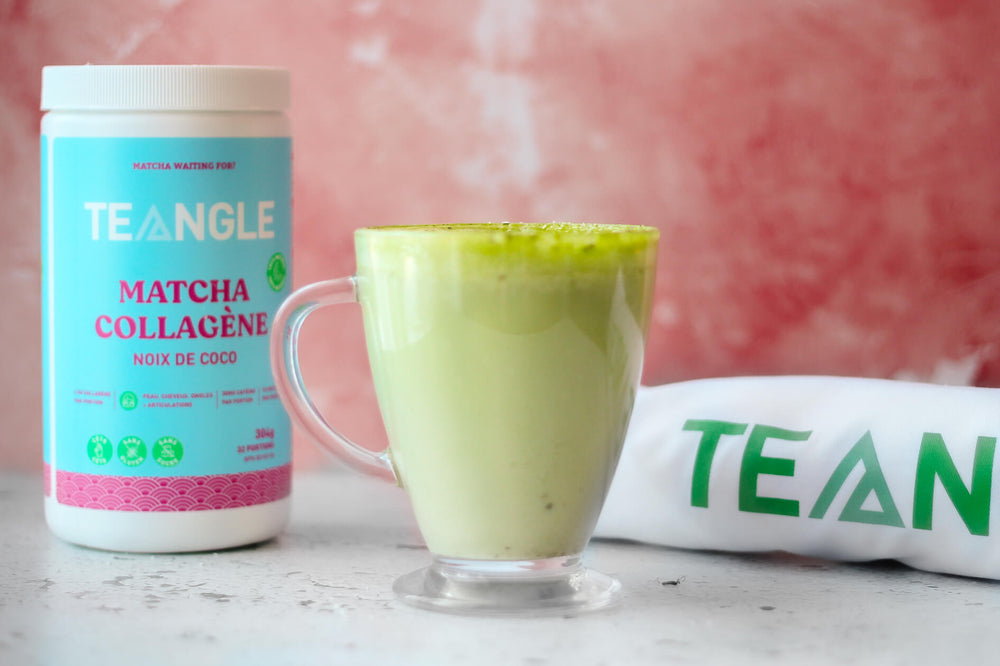 1 min read
Matcha Collagen Latte
If you're looking to increase your skin's glow, your hair's shine or your energy, we've whipped up THE Ultimate Beauty Latte. 
This gorgeously creamy Matcha Collagen Latte will leave you feeling beautiful from the inside AND out!
That's right, push that expensive face cream to the side, there's a new beauty heroe in town (& it's flippin' delicious)!
THIS MATCHA LATTE IS: 
Energizing 

Promotes Youthful Glow

Deliciously Creamy
Gives 1 BIG latte !
FOR THE MATCHA COLLAGEN LATTE
INGREDIENTS 
1 scoop of Matcha Collagen

½ cup of hot water

1 tsp. of maple syrup

1 tsp. of vanilla

1 cup of vegetable milk (coconut milk, oat milk or almond milk)

Ice (For an iced matcha latte)

 
INSTRUCTIONS 
In a cup, whisk together the Matcha, hot water, maple syrup and vanilla. **

Foam the vegetable milk and pour over the matcha. 
**For a matcha latte, add ice at this stage and shake to cool the matcha. 
Hot tip: For maximum frothy goodness, use an electric whisk or blender to whiz up your latte.
Going to make this Matcha Collagen Latte?! Take a picture, share it on Instagram and tag us @teanglematcha
---