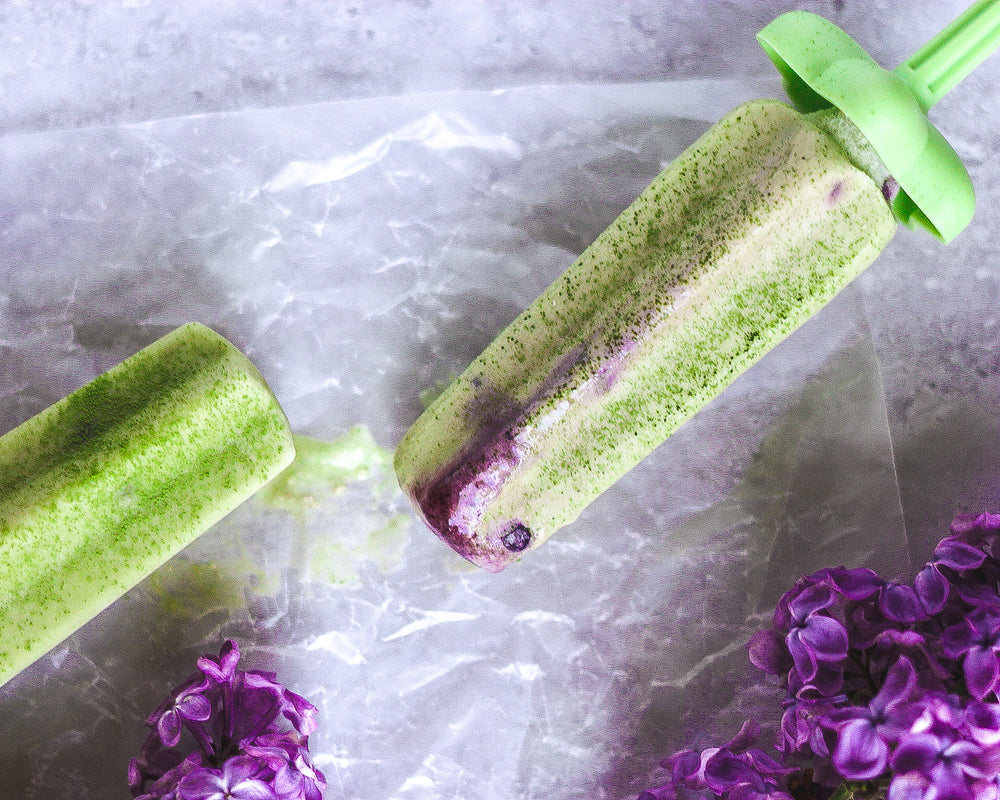 2 min read
Matcha & Coconut Breakfast Popsicles
Popsicles for breakfast? You betcha! When it's hot outside, there's no better way to start the day. These Matcha  powered lollies are creamy as they are fruity and will ward off any sugar cravings that creep up along with the mid-afternoon slump. 
Psst. Want a refreshing treat for dessert ? Dip them in dark chocolate & enjoy. You're welcome *wink 
Bring on the brain freeze !!
THIS
 

MATCHA

 POPSICLE

 IS:
Vegan 

Filled with Nutrients and Vitamins

Energizing & Refreshing 
INGREDIENTS (6 popsicles)
1 can of coconut milk 

½ cup of roll oats

½ cup of maple syrup

2 spoons of our Matcha

Juice and zest of a lime

1 teaspoon of vanila

Pinch of salt 

½ cup of maple syrup

½ cup of frozen blueberries
Optional topping : Granola
INSTRUCTIONS:  
Combine all ingredients except the blueberries in a blender

Defrost the blueberries in the microwave for 30 seconds

Divide the blueberries in the popsicle molds and pour the matcha mixture in it

Freeze for at least 5 hours, then serve topped with granola

Enjoy!
If you make this refreshing Matcha & Coconut Popsicle or any of our recipes, please snap a pic, post it on Instagram, and tag us at @teanglematcha
---