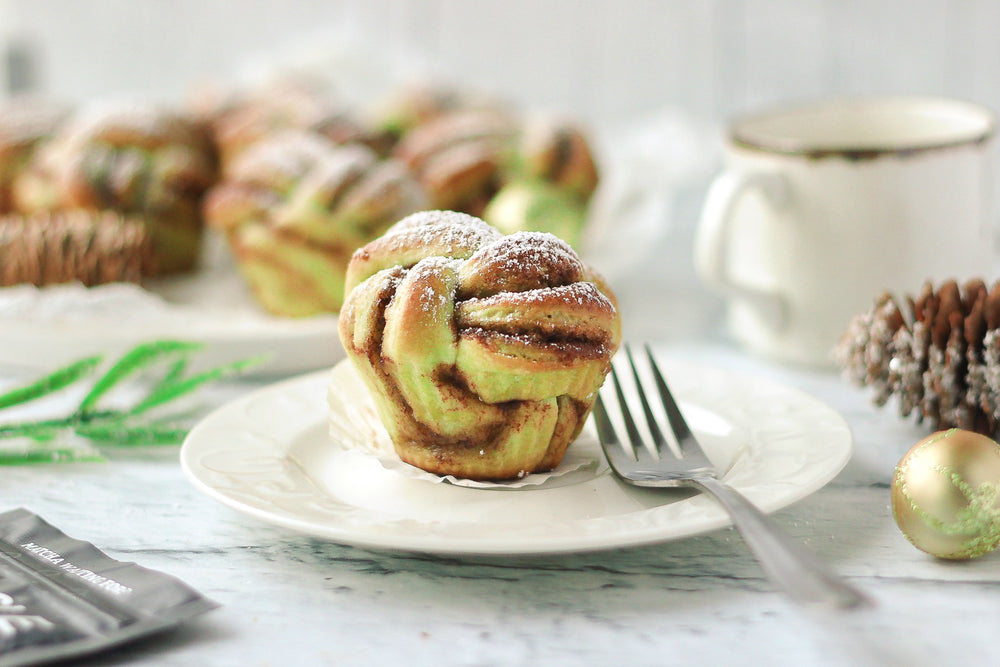 2 min read
Matcha Cinnamon Rolls
Say hello to big, fluffy cinnamon rolls packed with energy! AKA the ultimate morning treat or snack.
These gooey homemade Matcha Cinnamon buns will make the whole house smell wonderful as they bake.
THESE MATCHA BUNS ARE:
Filling and comforting

Bursting with flavors

Energizing
INGREDIENTS (8-12 cinnamon rolls)
2 cup of all-purpose flour

2 tsp of Teangle Ceremonial Matcha or Chai Matcha 

2 tsp of active dry yeast

3 tbsp of sugar

½ tsp of salt

¾ cup of non-dairy milk

3 tbsp of margarine, vegan butter or coconut oil

½

cup of brown sugar

¼ cup of of margarine, vegan butter or coconut oil

2 tsp cinnamon
PREPARATION
In a big bowl, combine the flour, matcha, active dry yeast, sugar and salt. Mix.

In a microwave safe bowl, combine the non-dairy milk and margarine.

Microwave for 45 secondes.

Add the wet ingredients to the flour mixture and mix until a dough forms. Knead for 5 minutes or until the dough is soft and elastic.

Cover the dough with a clean kitchen towel and rest for 30 minutes or until double in size,

To make cinnamon butter, cream the brown sugar, butter and cinnamon. Set aside.

Once the dough has proven, roll into a rectangle the size of a baking tray. Spread the cinnamon butter on the dough.

To form the cinnamon buns, roll the dough up and cut into 12 buns. Transfer into a muffin tin. Let the dough rise for about an hour.

Preheat the oven to 350F and cook the rolls from 15 to 25 minutes or until golden.

Let them cool completely before dusting them with powdered sugar.
Let us show you some love, take a photo of your Matcha Cinnamon Buns and tag us @teanglematcha
---