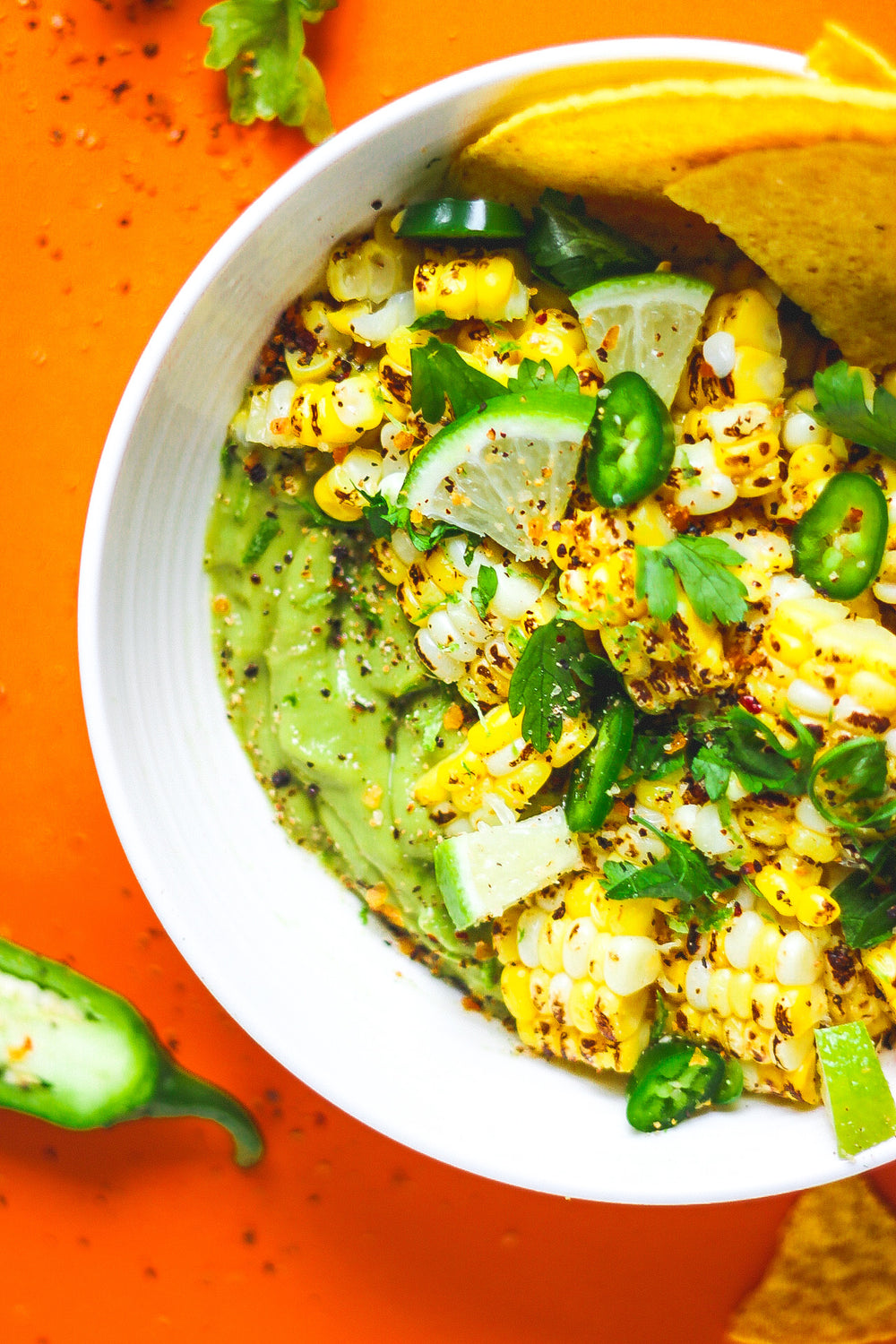 3 min read
Matcha & Charred Corn Guacamole
On a scale of one to ten, how acceptable is it to slather guacamole E-V-E-R-Y-W-H-E-R-E ? A solid ten right ?! Toast, tacos, nachos, bagels...heck you'd swim in it if you could. 
Well, your love affair with guac is about to hit a whole other level. 
Meet your newest obsession : Matcha & Charred Corn Guacamole. 
This ultra-green and antioxidant rich version of guacamole combines indulgence and wellbeing. Serve it as a dip at your next fiesta, but we warned, your guests might lick the bowl #IAmOnlyHereForTheGuacamole
Aïe aïe aïe we can hear you screaming "holy guacamole" from here !!


THIS
 

MATCHA & CHARRED CORN GUACAMOLE IS : 
Ultra-green

Antioxydant 

Perfectly spicy

Tasty
INGREDIENTS 
For the grilled corn 
2 ears of corn, peeled 

2 tbsp of vegetable margarine

1 tsp of jalapeño hot sauce (we used the Fire Barn Lime and Tequila!)
For the avocado-matcha guac
2 ripe avocados 

A lime (the juice + 2 tsp of zest) 

1 tsp of Teangle Ceremonial Matcha

1 tbsp of olive oil 

¼ cup of unsweetened vegan yogurt 

A few drops of hot jalapeño sauce 

Salt and pepper 
To serve
¼ cup of chopped fresh herbs (cilantro, parsley or basil) 

½ sliced ​​jalapeno 

A little lime zest 

A few drops of hot sauce 

Nachos, slices of toasted baguette bread, crackers ...
INSTRUCTIONS 
Roasted corn 
Preheat barbecue or grill pan over high heat. 

In a bowl, combine the vegetable margarine and the hot sauce.Reserve. 

Wrap each corn on the cob in aluminum foil and place on the barbecue. Cook for 10 minutes, with the lid closed, turning frequently. * It is also possible to make this recipe with already cooked corn. In this case, skip to step 3! * 

Remove the foil from the corn on the cob and return to the heat for a few minutes or until the corn kernels are lightly charred. Brush with margarine mixture and set aside.
 Avocado cream
In a food processor, reduce all the ingredients to a smooth puree. 
To serve
Pour the avocado guac into a bowl. 2. Cut the corn kernels off the cob and add them to the guac. 3. Garnish with fresh herbs, jalapeño slices, lime zest and a few drops of the hot sauce. 4. Serve with nachos as an appetizer or on slices of toast for a light lunch, accompanied by a refreshing Teangle Ginger Lemongrass Iced Matcha.
Take a picture, share it on Instagram and tag us @teanglematcha
---