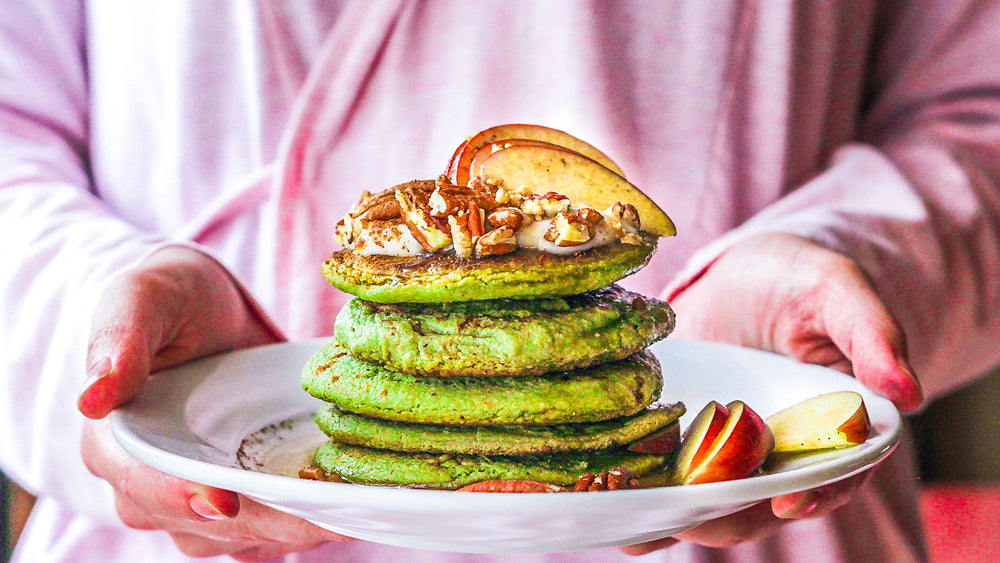 3 min read
Matcha & Apple Pancakes
It's fluffy. It's soft. Just live your average delicious pancake… but then BAM ! Fall slaps you in the face. Matcha and apples are whisked into the batter to give you the most wonderful, crisp flavor of autumn with every bite. 
These bad boys taste more like dessert than breakfast (HELLO!) and are SO good for you (queue angels singing in background).

So, pile 'em high and get ready to take on your day !!

THESE
 

MATCHA & APPLE PANCAKES ARE : 
Vegan

Gluten free

Rich in fiber

Protein

Soft and delicious :)
INGREDIENTS (15 SMALL PANCAKES)
Pancake dough
Oats - 2 ½ cups

Applesauce - ½ cup

Plant-based milk - 2 cups

Baking powder - 1 tsp 

Teangle Matcha  - 2 tsp

Salt - ¼ tsp

Apple - 1 grated (optional)
Cinnamon sugar
Cinnamon - 2 tsp

Maple flakes, coconut sugar or brown sugar - 5 tbsp
Vegetable margarine - 1 tbsp
INSTRUCTIONS
In a blender, combine the oats, applesauce, vegetable milk, baking powder, matcha and salt. Mix on high speed until you get a smooth texture.

If desired, stir in the grated apple.

In a small bowl, combine the cinnamon and maple flakes. Reserve.

Preheat a skillet over medium heat.

Melt about 1 tsp. of vegetable margarine in the hot pan. Pour about ¼ cup of mixture per pancake. Cook 3-4 minutes or until the rim peels off easily. Sprinkle about 1 tsp of cinnamon sugar on each pancake and turn with a spatula. Continue cooking for 30 seconds, being careful not to burn the sugar. If the pancake is not quite done, turn to finish cooking on the sugar-free side. Repeat for each pancake.

Serve, garnished with vegan yogurt, maple syrup, apple slices and a drizzle of almond butter.
Garnish ideas :
Whipped coconut cream or coconut yogurt

Maple syrup

Fresh apples

Cinnamon sugar

Granulated sugar

Pecans

Almond butter

Granola
Some tips for successful pancakes :
The pan should be perfectly hot. If a large amount of smoke is coming from the pan, lower the heat during cooking. If the first pancakes do not brown, increase the temperature a little.

The perfect time to turn your pancakes is when the edges feel solid, bubbles form on the surface, and they peel off easily.

If the pancake mix becomes too thick, add a little liquid, but gradually. Runny pancake batter will not bake all the way to the center.
Take a picture, share it on Instagram and tag us @teanglematcha
---