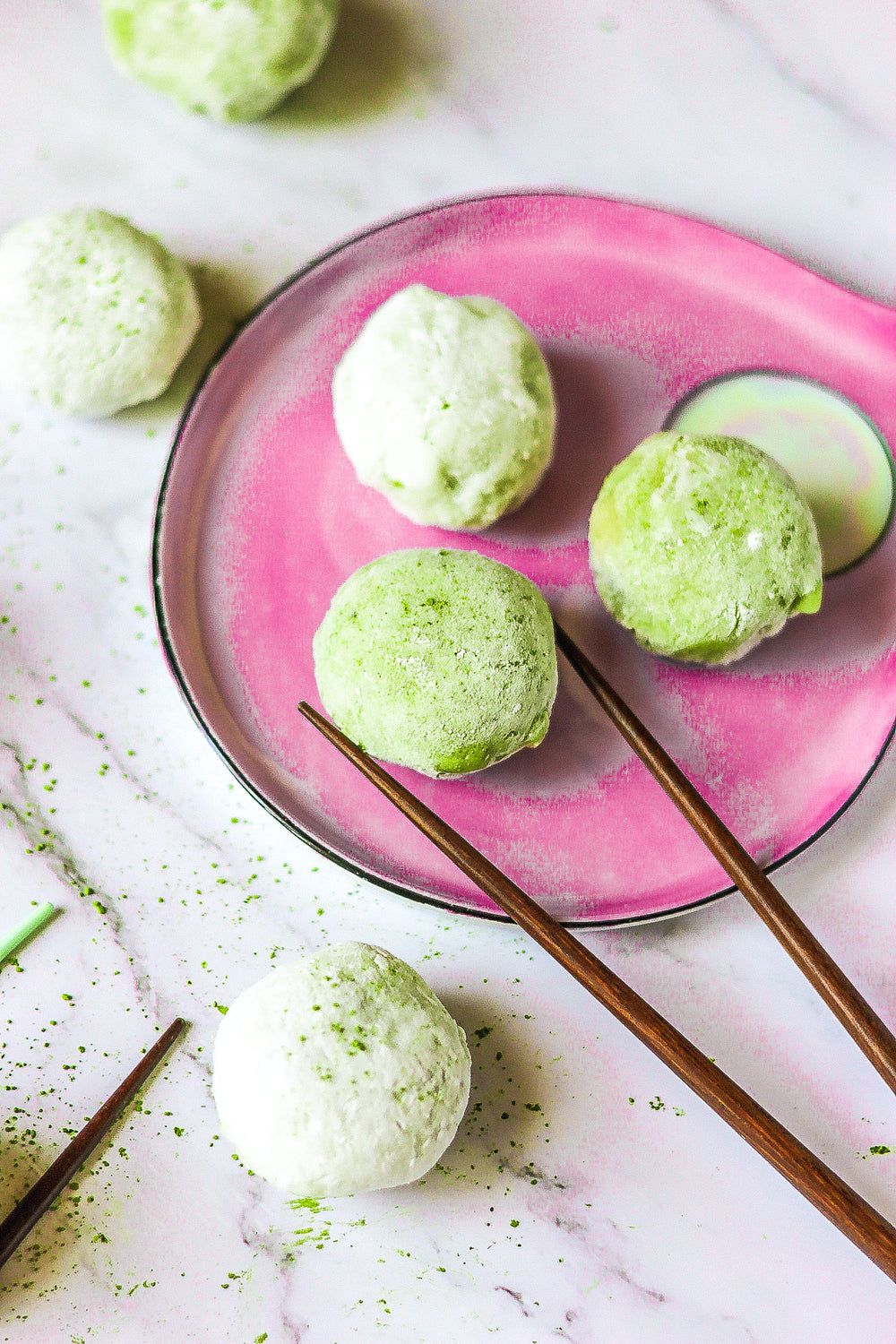 4 min read
How to Make Matcha Mochi
Oh goodness ! Soft, chewy, and sweet, what's not to love about Matcha Mochi. 
Just close your eyes, take a bite and "Kon'nichiwa" you're in Japan. 
If you're unfamiliar with these eye-catching treats, you should know that they're a Japanese-inspired dessert made by covering bite-sized balls of creamy ice cream with a sweet Japanese rice dough. YUM !
Now stop drooling and get your Mochi on !!
Doumo arigatou Teangle ;) 


THESE
 

MATCHA MOCHIS ARE : 
Soft

Chewy 

Naturally sweetened 

A-D-O-R-A-B-L-E !
INGREDIENTS (18 MOCHIS)
For the vegan ice cream 
¼ cup of vegetable milk 

3 frozen bananas or 3 cups of frozen mangoes 

1 tbsp tablespoon coconut oil 

1 tbsp chopped ginger 

1 tsp of Teangle Matcha
 For the mochi dough 
1 cup of sweet rice flour for mochi * 

1 tsp of Teangle Matcha

¼ cup of sugar 

1 cup of water

Cornstarch 
* Sweet rice flour is the basis of mochi recipes. Despite what its name suggests, it does not contain any sugar. It is possible to find it online, but it is also possible to make at home. To do this, simply reduce calrose-type rice (sushi rice) to a fine powder in a blender or coffee grinder. Sift everything, then use the flour in all your recipes!
INSTRUCTIONS 
In a blender or food processor, combine all the ingredients for the vegan ice cream. Mix until it reaches the texture of soft ice cream.

Cover a mini cupcake pan with a large piece of plastic wrap. Place a tablespoon (15 mL) of the ice cream in the molds and freeze a minimum of 2 hours. 

In a large bowl, whisk together the rice flour, matcha and sugar. Add water and mix until there are no more lumps. Cover with plastic wrap and put in the microwave for 2 minutes.

Mix the mochi dough with a spatula. Cover with plastic wrap and microwave for an additional 2 minutes.

Repeat one last time, but only put the dough in the microwave for 30 seconds. The dough should be quite firm. 

Sprinkle a work surface with cornstarch. * Tip: Stick a large sheet of parchment paper or baking mat on the counter. 

Place the mochi batter on the work surface, then sprinkle with cornstarch. Roll dough into large rectangle or until dough is about 3mm thick. Cut the dough into 18 rectangles using a pizza roller or a knife. To form the mochis, wrap each scoop of ice cream with a rectangle of dough. To do so, place the scoop of ice cream in the center of the rectangle of dough, round side down, then fold each end of the dough on itself, pinching to seal everything. Roll lightly between hands to round off the mochi, then place the mochi back into the mini-cucpake mold. Repeat for each mochi, then freeze for a minimum of 2 hours. 

When ready to serve, warm the mochis for 5 to 10 minutes on the counter or 15 seconds in the microwave. Taste!
Take a picture, share it on Instagram and tag us @teanglematcha
---