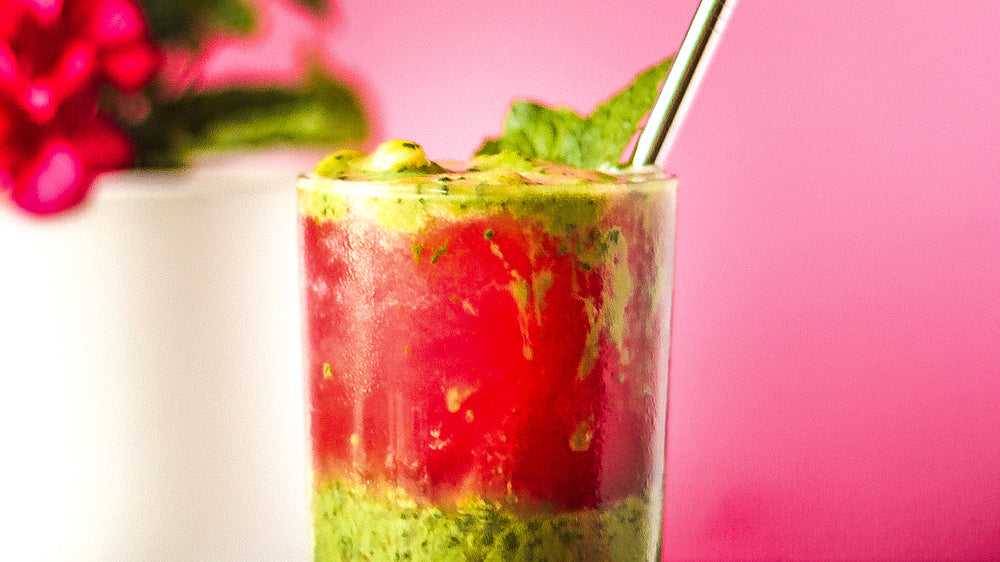 1 min read
How to Make Iced Watermelon Matcha
This Iced Watermelon Matcha is exactly what you need to beat the heat this summer!
On the refreshing scale of 1 to 10, this watermelon-y, matcha-y, mint-y, beverage is a solid 35 !! 
It's like the epitome of everything you want during summer...it's cool, refreshing, hygrating, and bonus- ENERGIZING !!
Looking to quench your thirst and make your taste buds sing 'Iced, iced matcha, baby' ?
Look no further *wink

THIS ICED WATERMELON MATCHA IS : 
Vegan

Gluten-free 

Naturally sweet

Refreshing ! 
INGREDIENTS (2 GLASSES)
1 cup of watermelon cubes 

1 cup frozen strawberries

4 mint leaves, plus for garnish

1 teaspoon Teangle Ceremonial Matcha

1 tablespoon hot water

1 tablespoon maple syrup

2 cups non-dairy milk
INSTRUCTIONS :  
In a blender, mix watermelon, frozen strawberries and mint leaves until it reaches a slushy consistency.

In a bowl, dissolve matcha in hot water. Add the maple syrup and non-dairy milk. Mix until combined. 

Pour the strawberry-watermelon mixture in 2 tall glasses. Add the matcha latte and garnish with a few mint leaves.
Take a picture, share it on Instagram and tag us @teanglematcha
---