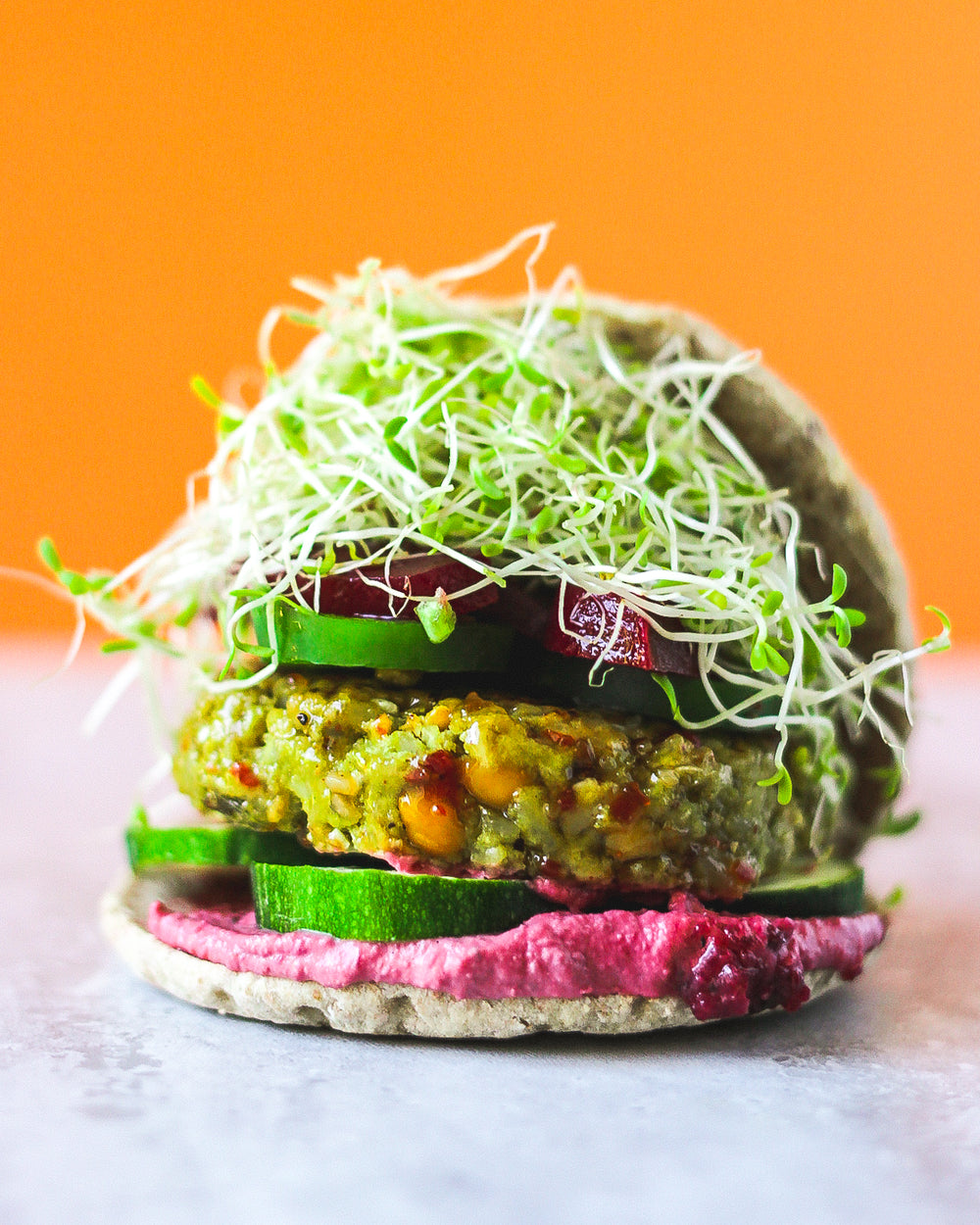 2 min read
How to Make a Vegan Matcha Burger
A VEGAN MATCHA BURGER ?! Yup, your love story with burgers is about to reach a whole other level with the arrival of this juicy new suitor. 
Fresh, tasty and, best of all, guilt free ! A dream come true. 
This delicious burger will become your new favorite summer griller!

So, who's ready to palm a patty?
THIS MATCHA BURGER IS: 
Vegan
Low in fat
Gluten-free
Full of greens! 
INGREDIENTS (8-10 burgers)
For the veggie burger patties
1 540 mL can of chickpeas

2 tablespoon of veganaise

1 cup of brown rice or quinoa

2 minced green onions

2 tablespoon of minced jalapeno

1 teaspoon of ground coriander

1 teaspoon of cumin

2 teaspoons of matcha

¼ cup of fresh cilantro

¼ cup of fresh parsley

¼ cup of almond meal

Salt & pepper
For garnish
Whole wheat or gluten free burger buns

Beet hummus, lettuce, sprouts, avocado slices, veganaise...
INSTRUCTIONS:  
Preheat the oven to 425°F and oil a cooking tray. 

In a bol, mash the chickpeas, the rice and the veganaise with a fork or a potato masher. 

Add all the ingredients for the veggie patties and mix to combine. If the mix is too wet, add a little of almond meal. 

Form 8 burger patties and transfer to the oiled tray.

Cook for 30 minutes, flipping the patties halfway through. They should be crispy and a little browned.

Serve the patties in a burger bun topped with hummus, lettuce, sprouts, avocado and veganaise ou any topping of choice.
* Keep the aquafaba (chickpea water) to prepare our delicious Matcha & Strawberry Dalgona!
Take a picture, share it on Instragram and tag us @teanglematcha
---