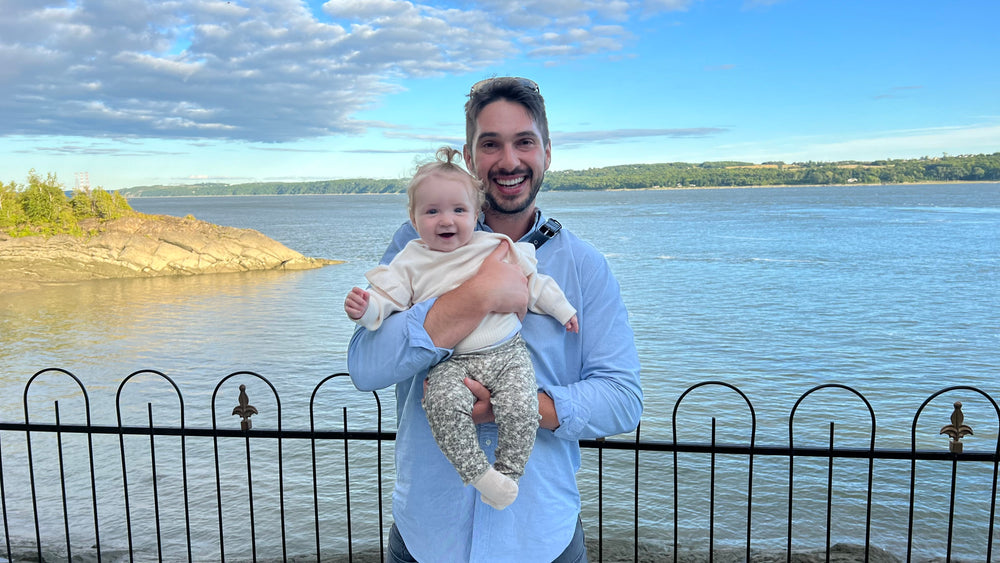 6 min read
Teangle's Founder : 3 lessons as a new father
Hi everyone, I'm the founder of Teangle and for my 29th birthday, I wanted to take the time to reflect on my first year of being a dad to a beautiful girl named Olivia. 
Here are 3 life-lessons that my daughter has taught me (so far!).
Lesson #1 - Don't lose hope.
March 24th 2021 is an evening I'll always remember.
It began like any other night. I turned off the lights, settled into bed and before I knew it, I was sound asleep.
Only to be woken up moments later by my wife Elisabeth. She sat at the bedside with tears streaming down her cheeks.
I noticed something in her hand, a pregnancy test. She moved it closer to my face.
I looked up at Elisabeth confused. My immediate response wasn't to celebrate.
You see, we had been trying to conceive for over a year and seeing my wife cry over a negative test result wasn't anything new to me... It was always a mixture of sadness and feeling hopeless.
But this time, it was different. They were tears of joy.
She put her hands on her belly, smiled and said "I'm pregnant!"
It was truly a miracle - we were just about to begin our first cycle of IVF the same week.
Once my brain processed what was going on, I broke down in tears and hugged my wife.
It was such a special moment and for me, it serves as a powerful reminder that we must never lose hope and always have faith! Miracles do happen.
Oh and this is kind of funny... In the following 72 hours, my wife had taken about 8 more tests to make sure she was pregnant 🤣
Lesson #2 - You might get there on your own, but with the right help, you'll get there MUCH faster.
Once I found out my wife was pregnant, it hit me! 
Oh shit, I'm actually going to be a dad.
A new chapter in my life was opening up. It was a totally surreal feeling.
When friends and family found out about the pregnancy, there was an outpouring of congratulations and "you will be a great dad".
But with as much happiness as I was experiencing, there was just as much anxiety, fear and self-doubt :
Am I truly ready to be a dad? Could I unwillingly pass on my own unresolved issues, pains and traumas to my daughter?
If I wanted to be the best father possible for my little girl, I knew there were some things about myself that needed urgent attention. Past trauma, being a big one.
So I made one of the best decisions of my life, I stepped outside of my comfort zone and sought out professional help.
I found a psychotherapist that really resonated with me and made it a priority to schedule a call with him at the same time every week; no excuses!
With his guidance, in the span of just 5 months I grew into a better man (& communicator) and learned things about myself that would have taken years on my own!  
Lesson #3 : Be patient with yourself.
These past 9 months I've been seeing my daughter grow before my very eyes. It's such a gift and I can't believe how fasts she's constantly changing. 
But as I've been observing her there's something in particular that has grabbed my attention.
She has such a playful and cheerful attitude towards trying.... 
Like trying to : roll-over,  speak, crawl, eating new foods.
She can go from failing at something 99% of the time for a couple of weeks to all of a sudden! BOOM, here comes Olivia crawling across the room at the speed of light.
Hahaha, it's gotta be the coolest and cutest thing ever!
As her father, I'm also making sure to play my role. I want to encourage her and support her every step of the way to make sure that my little girls grows up with confidence in herself. 
What is ironic, is that ever since I've been a dad, I've became a lot more aware of how I treat myself - my inner dialogue. 
I noticed that I was way too hard on myself and that I would never speak or react to my daughter in the same way.
Can anyone else relate? 👋🏻
So I realized, that I needed to make it a habit to treat myself the same way I was treating my daughter; with more : love, compassion and patience. 
Yours truly,
- Philippe
---