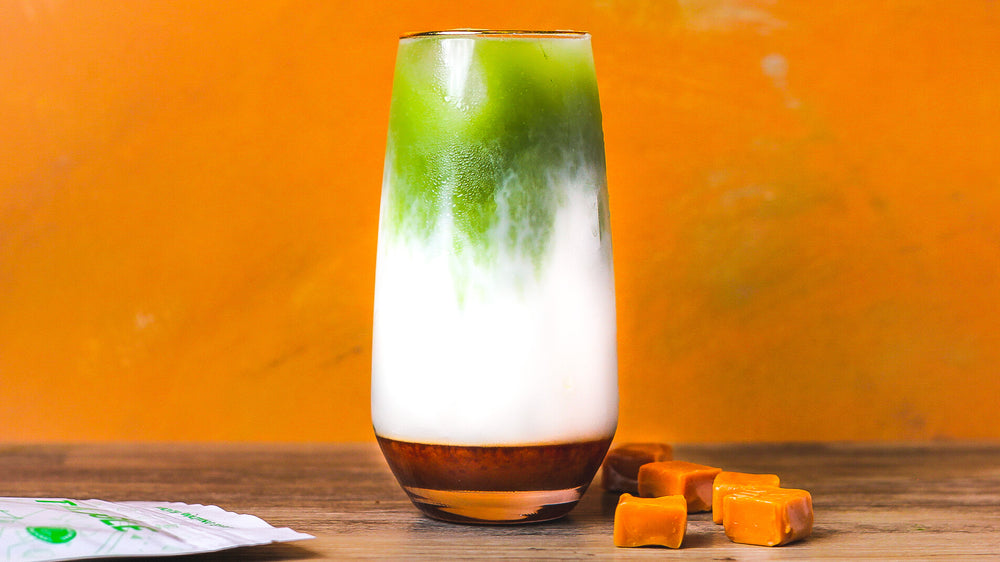 3 min read
Salted Caramel Matcha Latte
Are you drooling all over your phone? 
That was our intention (hehe). This Salted Caramel Matcha Latte is the best of four worlds: sweet, salty, creamy AND oh so healthy!!! 
....you'll be hooked from the very first sip!
THIS 
MATCHA
 LATTE IS
Vegan

Creamy

& Delightful
FOR THE "BURNT" SALTED CARAMEL 
The caramel makes 10 servings
INGREDIENTS 
½ cup of sugar

¼ cup of vegetable milk

2 tsp. of coconut oi

A good pinch of sea salt
INSTRUCTIONS
In a small saucepan over medium heat, pour the sugar. Cook and stir the pan occasionally.

While the sugar is caramelizing, heat the vegetable milk and coconut oil for 1 minute in the microwave.

When the sugar has reached a dark amber color, remove from the heat and pour in the vegetable milk and coconut oil mixture, whisking vigorously. Add the pinch of sea salt.

Transfer to a container and let cool before storing in the fridge.
FOR THE LATTE
INGREDIENTS 
¼ cup of hot water
1 tsp. matcha
1 tbsp. burnt caramel
Ice cubes
1 cup plant milk
INSTRUCTIONS 
For the Salted caramel Matcha latte
Dissolve matcha and caramel in hot water.

Transfer the preparation to a glass, filled with ice cubes. 

Add the vegetable milk and mix.

Garnish with an extra drizzle of caramel and whipped coconut cream for an even more gourmet version.
A few tips to make a successful caramel:
Do not mix the hot sugar with a spatula or other kitchen utensil, the sugar will crystallize. To stir, gently shake the pan on the round.

It is important to watch the caramel carefully, otherwise it could burn. 

The darker a caramel is, the more bitter it will be. For a burnt caramel (like this recipe) be sure to let the sugar caramelize long enough to darken it, without it smelling burnt. Otherwise, the caramel will be very bitter.
Going to make this Salted caramel Matcha latte?! Take a picture, share it on Instagram and tag us @teanglematcha
---