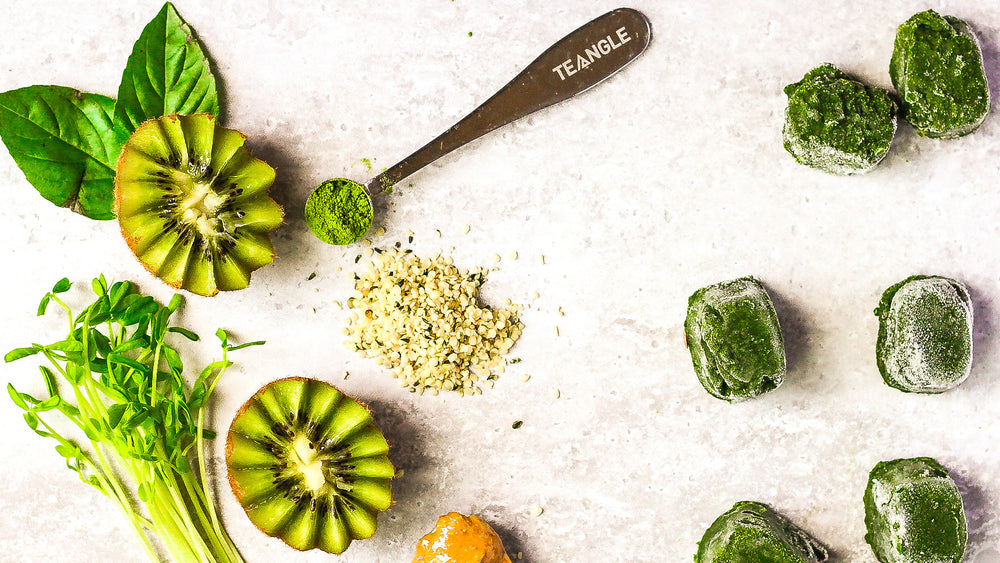 2 min read
Matcha Smoothie Cubes
It's 7am. You're rushing to get out the door. You don't want to skip a healthy breakfast BUT…. You don't feel like cutting up a bunch of fruits, dealing with the noisy rockus of your blender and least of all cleaning it…
We get it & we've got you covered. Meet your new favorite lifesaving breakie - Matcha Smoothie Cubes. Perfect for those busy mornings when you're on the go go go.
Just pop, shake and you're off ;)

THESE
 

MATCHA SMOOTHIE CUBES ARE : 
Vegan

Gluten free 

Full of protein 
INGREDIENTS (4 SMOOTHIES)
4 cups of fresh fruit (Kiwi, pineapple, mango) 

4 cups of spinach 

¼ cup of chia or flax seeds

¼ cup almond butter 

Lime - The juice and zest of a lime 2 tbsp. 

2 tbsp of basil

1 tsp of Teangle Matcha

 ¼ cup maple syrup 
INSTRUCTIONS 
Blend all of the ingredients.

Pour the preparation into an ice cube mold. This should make approximately 32 15 mL ice cubes.

Freeze a minimum of 8 hours.

When ready to serve, place 8 ice cubes in a bottle. Add 1 cup of vegetable milk and let melt for a few minutes before shaking and tasting.
Note : It is possible to adapt the recipe to all smoothie recipes!
Take a picture, share it on Instagram and tag us @teanglematcha
---