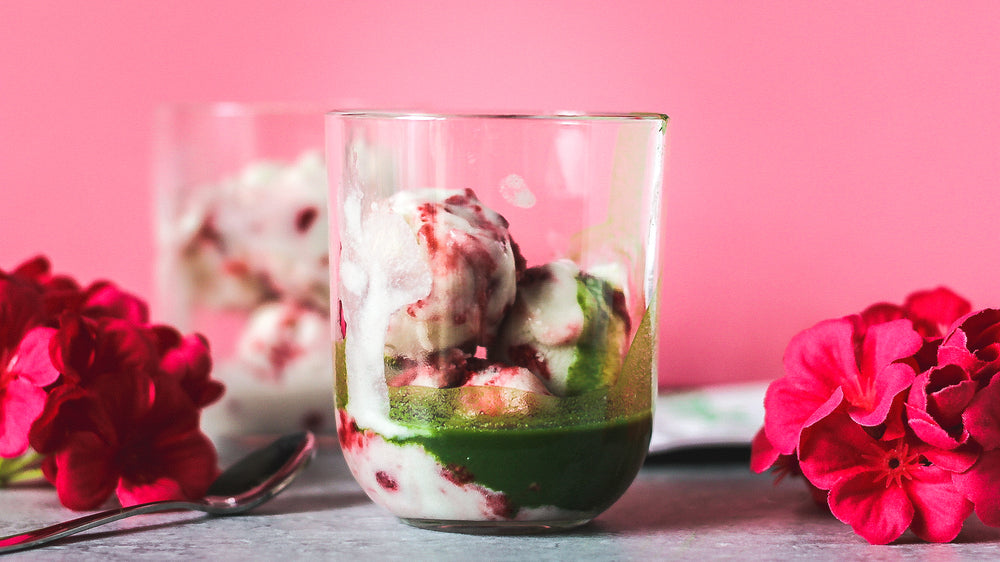 3 min read
Matcha & Raspberry Affogato
Send the lifeguard !!! Because your taste buds are about to drown in this Matcha & Raspberry Affogato. In Italian, "affogato" means "drowned", as in vanilla ice cream drowned in a hot shot of Matcha espresso. Oh goodness !! 
Ready to swim in this creamy deliciousness ?
THIS MATCHA & RASPBERRY AFFOGATO IS : 
INGREDIENTS (2 AFFOGATO)
For the raspberry coulis
1 cup of fresh raspberries 

1 tbsp of maple syrup (or honey)
For the ice cream 
2 tbsp of cornmeal flour 

2 cans of coconut milk (400 mL)

½ cup of of maple syrup (or honey)

¼ tsp of salt 

1 cup of frozen raspberries
Matcha espresso 
1 tbsp of Teangle Matcha 

120 mL of hot water

⅛ tsp of salt

Granola, to garnish 
INSTRUCTIONS 
For the raspberry Coulis :
1. With the help of a blender, turn the raspberries and maple syrup into a puree. 
For the ice cream :
2. In a small bowl, dissolve the cornstarch in 2 Tbsp. tablespoons of coconut milk. 
3. In a saucepan, combine all the other ice cream ingredients except the raspberries. Heat over medium-low heat until well combined.
4. Add the cornstarch mixture and continue cooking for 6 minutes or until the mixture thickens slightly. 
5. Ice cream maker method : 
Refrigerate a minimum of 8 hours. 

Transfer to the ice cream maker and churn for 25 minutes.
Method without ice cream maker :
Freeze ¾ of the mixture in an ice cube tray and keep the remaining ¼ in the fridge. 

In a food processor, combine the ice cream cubes and the mixture in the fridge and mix until you get the consistency of soft ice cream. 
6. Transfer the ice cream to an airtight dish. Add the frozen raspberries and the raspberry coulis and mix to create a marbled effect. Place in freezer for 1 hour, or until ice cream is firm. 
For the presentation:
7. Whisk together matcha, water and salt until matcha is dissolved.
8. In a glass, place a scoop of ice cream. Pour in a little matcha espresso to cover half of the ice cream. Garnish with granola and enjoy !
Take a picture, share it on Instagram and tag us @teanglematcha
---