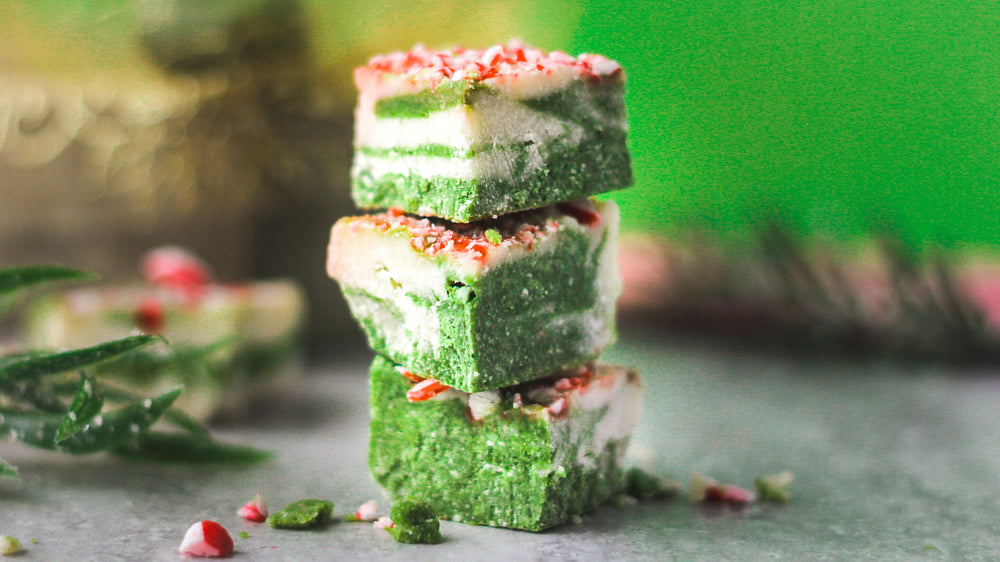 2 min read
Matcha & Candy Cane Fudge
Oh fudge!
This Christmas treat will be on your baking list, year after year.
Every bite of these easy-to-make Matcha fudge squares will melt in your mouth
Grab an apron, and let's get started!
Vegan

Low sugar

Delicious
FOR THE FUDGE 
INGREDIENTS 
2 cups of unsweetened coconut flakes

⅓ cup of coconut oil

¼ cup of maple syrup

¼ tsp of salt

1 tsp of vanilla

3 tsp of soy milk

1 tsp. of Peppermint Matcha

Crumbled candy canes, to garnish
INSTRUCTIONS 
For the Matcha & Candy Cane Fudge
In a food processor or blender, reduce the coconut flakes to a fine powder.

Add the coconut oil and blend at high speed until a creamy, homogeneous coconut butter is obtained.

Add maple syrup, salt, vanilla and mix.

Add the soy milk, one spoon at a time, until the mixture becomes thick.

In a bowl, put one third of the fudge and add the Matcha. Stir to combine.

Oil a plastic dish of X by X cm and place a strip of parchment paper on it.

Spread half of the fudge without Matcha at the bottom of the dish. Add the fudge to the Matcha, then add the white fudge to make three layers. Using a knife, lightly mix the three layers to make a marbled effect. Garnish with crumbled candy canes and press lightly to adhere to the fudge.

Refrigerate for 2 hours before cutting into individual portions.

Take the fudge out of the fridge about 30 minutes before serving to allow it to cool.
Going to make this Matcha Fudge?! Take a picture, share it on Instagram and tag us @teanglematcha
---