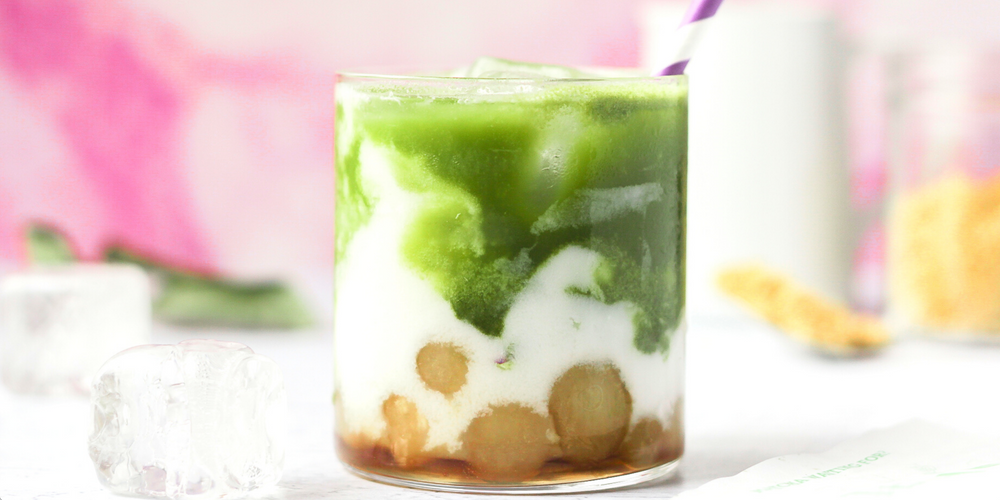 2 min read
Matcha Bubble Tea
Unless you've been living under a rock, you know that bubble tea, a popular treat in Asia has taken the world by storm.
Want to learn how to make it from home (it's so EASY!) for a fraction of the cost you'd pay at the shop?!
Our Matcha bubble tea is full of energy and antioxidants and every bit as sweet as it is creamy!!


THIS MATCHA BUBBLE TEA IS:
Vegan
Gluten-Free
Deliciously sweet!
INGREDIENTS
For one bubble tea
¼ cup hot water
½ tsp of Teangle Ceremonial Matcha (or one of our other yummy blends!)
1 cup oat milk
¼ cup of tapioca pearls mixed with brown sugar syrup
For the homemade tapioca pearls
¼ cup boiling water

¼ cup of tapioca starch
¼ cup sticky rice flour
1 tbsp brown sugar
Brown sugar syrup
2 tbsp brown sugar
2 tbsp water
PREPARATION
For the homemade boba
In a bowl, mix the boiling water, brown sugar and starch. Mix until a dough forms. If needed, add a little more water or starch to obtain a smooth dough.

With your hands, detach pieces of dough and roll them into balls the size of a chickpea. Transfer each ball in a bowl covered in tapioca starch to prevent them from sticking.

Bring a pot of water to a boil. Cook the tapioca pearls until they float, about 5 minutes.

While de tapioca pearls are cooking, prepare the brown sugar syrup by combining the brown sugar and water into a microwave safe bowl. Microwave for 1 minute. Set aside.

When the pearls are cooked, drain and immediately mix with the brown sugar syrup.
For the bubble tea
Mix the Matcha and hot water together.

In a glass, add the tapioca pearls. Fill the glass with ice cubes and pour the oat milk and matcha on top.
Going to make this Matcha Bubble Tea?! Take a picture, share it on Instagram and tag us @teanglematcha
---