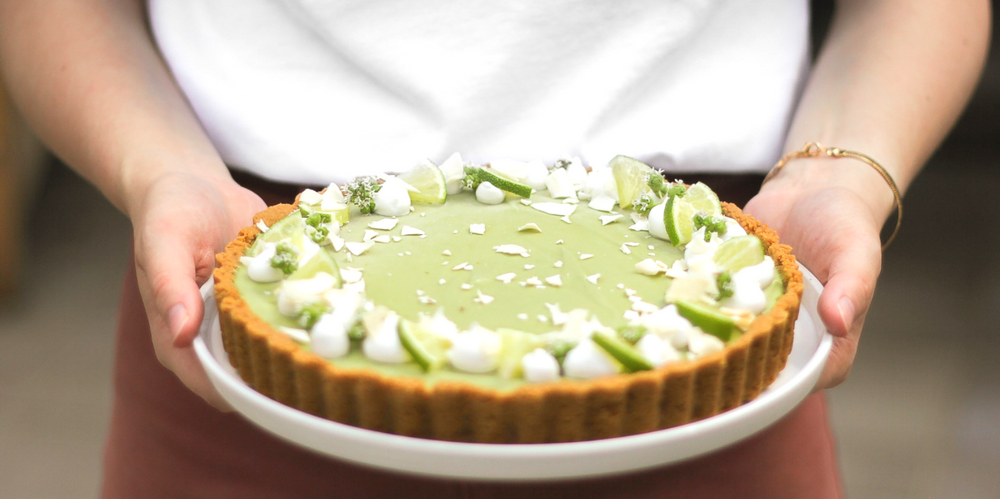 3 min read
Key Lime Matcha Pie
This no Bake Key Lime Matcha Pie is sure to put a smile on your face and spring in your step! This pie is SO easy, creamy, refreshing and delicious…AND you can't really mess it up!!
Each bite is like a mini-vacation for your taste buds. You can even close your eyes and pretend you're lounging in a hammock in the Florida Keys while you devour it!
Mhhhhhmmmmmmm!
THIS MATCHA PIE IS:
Vegan

Refreshing & Zesty!

ULTRA creamy!
INGREDIENTS
For the crust
1 bag of gluten-free vegan graham cracker crumbs 
5 tbsp of vegetable margarine
For the lime creme
2 cups of raw cashews, soaked for 30 minutes in boiling water
⅓ cup of coconut oil
½ cup of coconut cream*
⅓ cup of lime juice (roughly 2 limes)
The zest of two limes & 1 lemon
¼ cup of maple syrup 
2 tsp of vanilla extract
2 tsp of Teangle Ginger and Lemongrass Matcha
1 pincée de sel
To decorate:
Vegan whipped cream
Lime quarters
Comestible flowers
Coconut flakes
PREPARATION
For the crust
Heat the oven to 350F.
In a bowl, combine the cracker crumbs and margarine. Mix until you get a sandy texture.  
Transfer the preparation to a 9 inch cake mold and press down using a measuring cup.
Cook for 9 minutes, let it cool down. 
For the lime cream:
In a mixer, combine the cashews, coconut oil, coco cream, lime juice & zest, maple syrup, vanilla, matcha and salt. Blend at high speed until you get a smooth and creamy texture. 
Transfer mix to the cake mold with graham crust and use a spatula to spread evenly.
Freeze for a minimum of 3 hours. 
At least 30 minutes before serving, take the pie out of the freezer. Garnish with coco whip, slices of lemon and comestible flowers and coconut flakes. 
You can conserve the pie for a few days in the fridge. 
*Coco cream is the solid part of a can of coconut milk that has been left in the fridge for the night. 
Take a photo of your Key Lime Matcha Pie and share it on Instagram @teanglematcha
---