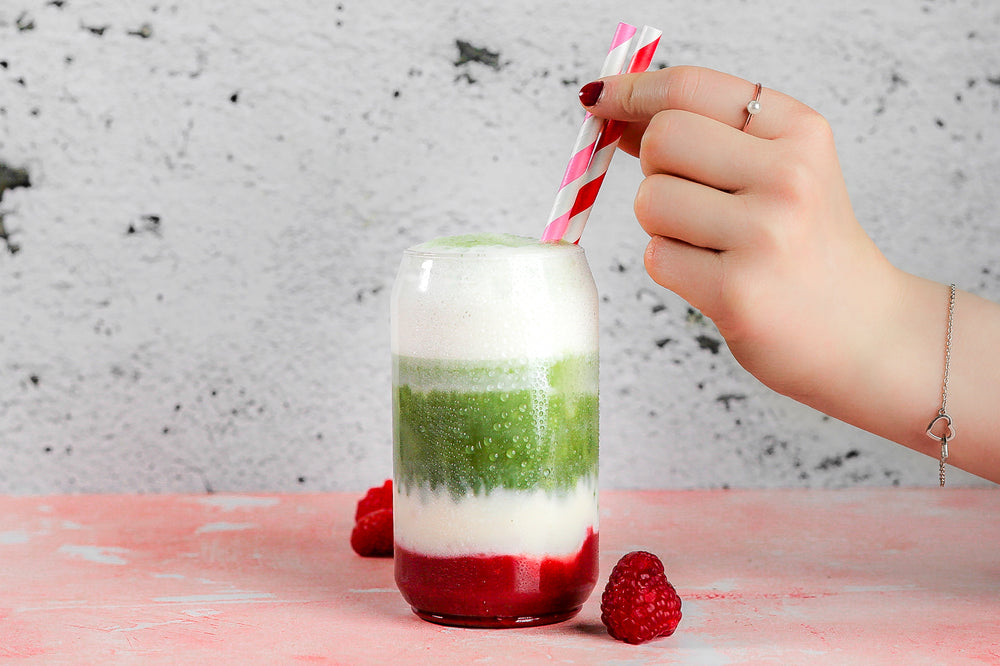 2 min read
Iced Matcha Raspberry Latte
Love is in the air, in our hearts....and in our Matcha Latte! 
Quick and easy-to-prepare, this yummy Matcha Raspberry Latte packs an explosion of flavour in every sip.
With three layers of goodness, this creamy and refreshing treat is sure to go down smooth!

THIS ICED MATCHA RASPBERRY LATTE IS: 
Delicious with a little piece of dark chocolate
FOR THE MATCHA LATTE:
INGREDIENTS 
¼ cup hot water

1 tsp Teangle Matcha Peppermint Matcha
2 to 4 tbsp. raspberry jam **
1 cup of plant-based milk (almond, oat or coconut milk) 
1 tsp of vanilla extract
INSTRUCTIONS 
Dissolve the Matcha in hot water. Reserve.

In a tall glass, pour the raspberry jam and vanilla. Mix.

Fill the glass with ice cubes and pour in the plant-based milk, then the Matcha.

Toss and garnish with fresh raspberries.
TO MAKE YOUR OWN RASPBERRY CHIA JAM:
2 cup of frozen raspberries
2 tbsp. chia seeds
2 tbsp. maple syrup
1 tsp vanilla extract
Place the raspberries in a small saucepan and, over medium heat, cook for 5 minutes or until the raspberries are thawed and the mixture boils slightly.
Mash the raspberries with a fork, then add the chia seeds and maple syrup.
Mix, then remove from heat. Let stand 5 minutes. Mix again, then transfer to a jar.
Refrigerate or use to make a Raspberry Matcha Latte!
Going to make this Iced Matcha Raspberry Latte?! Take a picture, share it on Instagram and tag us @teanglematcha 
---