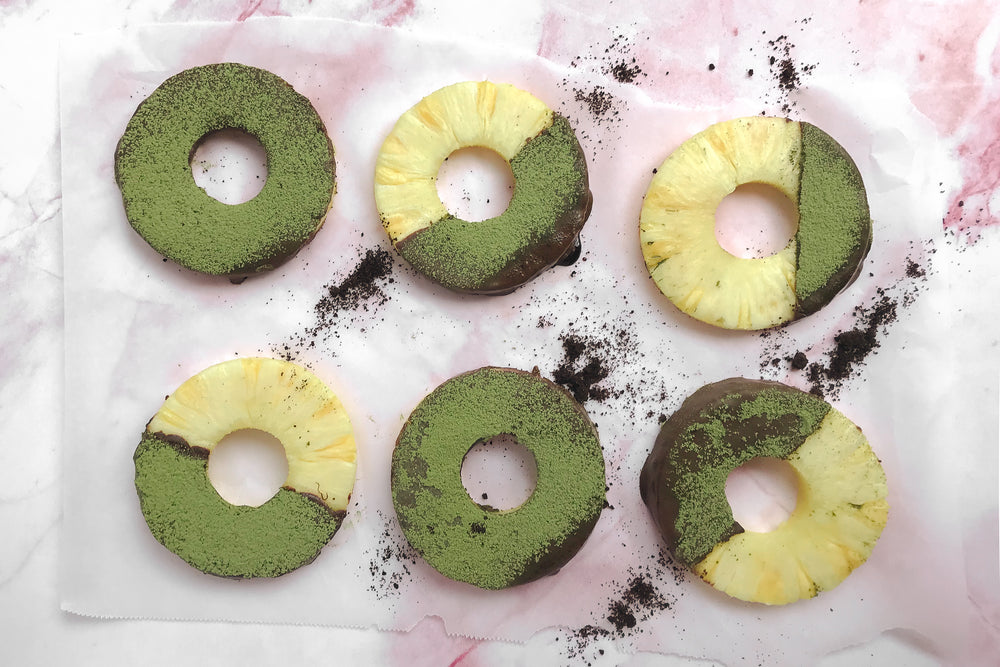 2 min read
Chocolate & Matcha Dipped Fruits
You can never have too much chocolate! Only chocolate in reserve, to concoct a chocolate and Matcha fruit plate! Raise your cup of tea, if that's okay.

This recipe is a real explosion of sweetness for the taste buds. A little pick-me-up, delicious and rich in antioxidants, which is prepared in less than 10 minutes!

Oh la la - ready to sink your teeth into a piece of fruit…or two?

THESE FRUITS IN MATCHA ARE: 
Vegan
Gluten free
Only three ingredients!
INGREDIENTS
1 pineapple*
200g semi-sweet chocolate
2 tbsp. teaspoon Teangle Matcha
INSTRUCTIONS
Cut the pineapple into slices about 1 cm thick.
In the microwave or in a bain-marie, melt the dark chocolate. For the microwave method, cook for 30 seconds, mix, return to the microwave and repeat the process until the chocolate is completely melted.
Meanwhile, cover a baking sheet with parchment paper.
Dip each slice of pineapple in the chocolate and transfer to the baking sheet. Leave to harden at room temperature for one hour.
When the chocolate is solidified, sprinkle with matcha, using a sieve, the chocolate part of each fruit.
For best results, serve immediately.
* It is possible to replace the pineapple with any sweet fruit; the sugar from the fruit will balance out the bitterness of the matcha powder.
Take a picture of your chocolate and Matcha fruit, share it on Instagram and tag us at  @teanglematcha
---