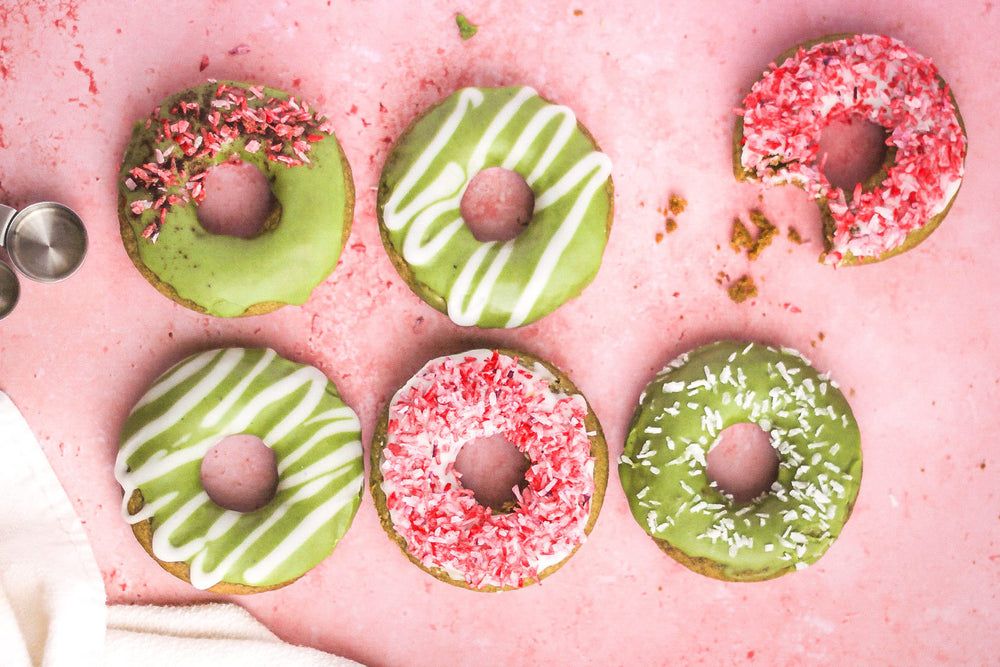 3 min read
Chai Matcha Doughnuts
Existential question… Is it OK to eat doughnuts for breakfast? Yes, no, maybe, on special occasions...?! Well…'doughnut' worry, we've decided to remedy this dilemma! 
Next time a craving kicks in, skip the trip to the doughnut shop and whip up these Chai Matcha oven Baked doughnuts instead. They've got all the same great flavors (& more!) without the grease.
A soft, fluffy, fun & easy treat that you 'doughnut' have to feel guilty about ;)
...so sweet and hole-some!
THESE 

MATCHA 

DOUGHNUTS ARE

: 
Vegan

No gluten

& perfectly soft ! 
Makes 12 doughnuts!
*For a dessert version: Garnish with Matcha Chai frosting.
*For a breakfast version: Serve with applesauce and omit the frosting.
FOR THE DOUGHNUTS
INGREDIENTS 
½ cup of vegetable milk

1 teaspoon apple cider vinegar

1 cup all-purpose or gluten-free flour

4 tablespoons brown sugar

1 teaspoon baking powder

½ teaspoon baking soda

½ teaspoon cinnamon

½ tsp. ground cardamom

⅛ tsp. ground cloves

2 Teangle spoons (approx. 1tsp) Matcha Chai Teangle

1 teaspoon vanilla

2 tablespoons of oil

3 tablespoons applesauce

2 tablespoons of boiling water
FOR FROSTING 
INGREDIENTS
INSTRUCTIONS 
For the Matcha Chai doughnuts
Preheat the oven to 350F.

In a measuring cup, combine the vegetable milk and the apple cider vinegar.

In a large bowl, mix all dry ingredients.

Add vanilla, oil and applesauce to the vegetable milk and vinegar mixture. 

Add the mixture to the dry ingredients and stir.

Add the boiling water and mix until a smooth, homogeneous paste is obtained. 

Transfer the mixture to a pastry bag or freezer bag with a cut corner.

Divide the mixture among 12 cavities of a doughnut mould.

Bake for 8-10 minutes or until the tip of a knife inserted in the center of a doughnut comes out clean. 

Let cool completely before glazing.
For the final touch (dessert version)
In a bowl, mix powdered sugar, matcha and 1 tablespoon of vegetable milk until thickened and glazed. If necessary, add a drizzle of vegetable milk. 

Garnish each doughnut with icing and sprinkle with coconut flakes if desired.
Going to make these Chai Matcha doughnuts?! Take a picture, share it on Instagram and tag us @teanglematcha
---